In team sports, the coach and players cannot control the final score. Luck or the rival team's good work can lead to a bad result despite having played at an outstanding level. Perhaps that is why superstitions and mistaken beliefs of sportsmen and women play an important role in preparing players to compete.1,2 These can be small actions such as avoiding the yellow colour in the equipment or the need to step twice in a row with the right foot when entering the pitch. But this can also affect exercises included in injury prevention protocols or the proposed pre-game warm-up.
Players' beliefs may clash with scientific evidence that often supports coaching staff intervention routines. Figure 1 shows the relationship between the strength of scientific evidence and the strength of athletes' beliefs when attempting to modify or introduce a novel behaviour or intervention that could improve performance. When the scientific evidence matches an athlete's beliefs, it is relatively easy to avoid or introduce a new approach (quadrant 1). If an athlete develops behaviours that are not supported by science, it may be better to tolerate the activity and wait for a time when the performance is not good, which could open an opportunity window to learn to adopt more scientifically supported approaches (quadrant 2). When the scientific evidence is strong, but the athlete doesn't believe in what they are going to do, the key is to be patient. When appropriate, it is advisable to talk about the archetypes of athletes who adopt science-based interventions. It may be easier to gain the acceptance of the player and try a new intervention based on scientific evidence at a time of the season that is not high risk for achieving sporting objectives (quadrant 3). If athletes' beliefs and the scientific evidence agree that a performance is not desirable, it is best not to use it (quadrant 4).
The correct management of the coach on what to do at each moment, if the most advisable or what the players think is best, is key to not generating unnecessary conflict and getting the best possible version of the athletes. It should be kept in mind that the superstitions that players may have are an important source of self-confidence. It may not be a good idea to alter their habits before a major game. Similarly, mistaken beliefs or lack of conviction from players towards a proposed new measure by coaches, can condition the team's success.
In short, it is important to bear in mind that a team is made up of different individuals, with different sporting cultures and with beliefs that are sometimes contrary to what the scientific evidence proposes. It is a question of finding the best moment to convince and alter a behaviour that is not the best for the player, even if they believe the opposite. Science, sportsmen and women's beliefs, customs and traditions can point in different directions. It seems as important to know and propose the best preparation routines supported by science, as it is to know how to deal with players and their beliefs.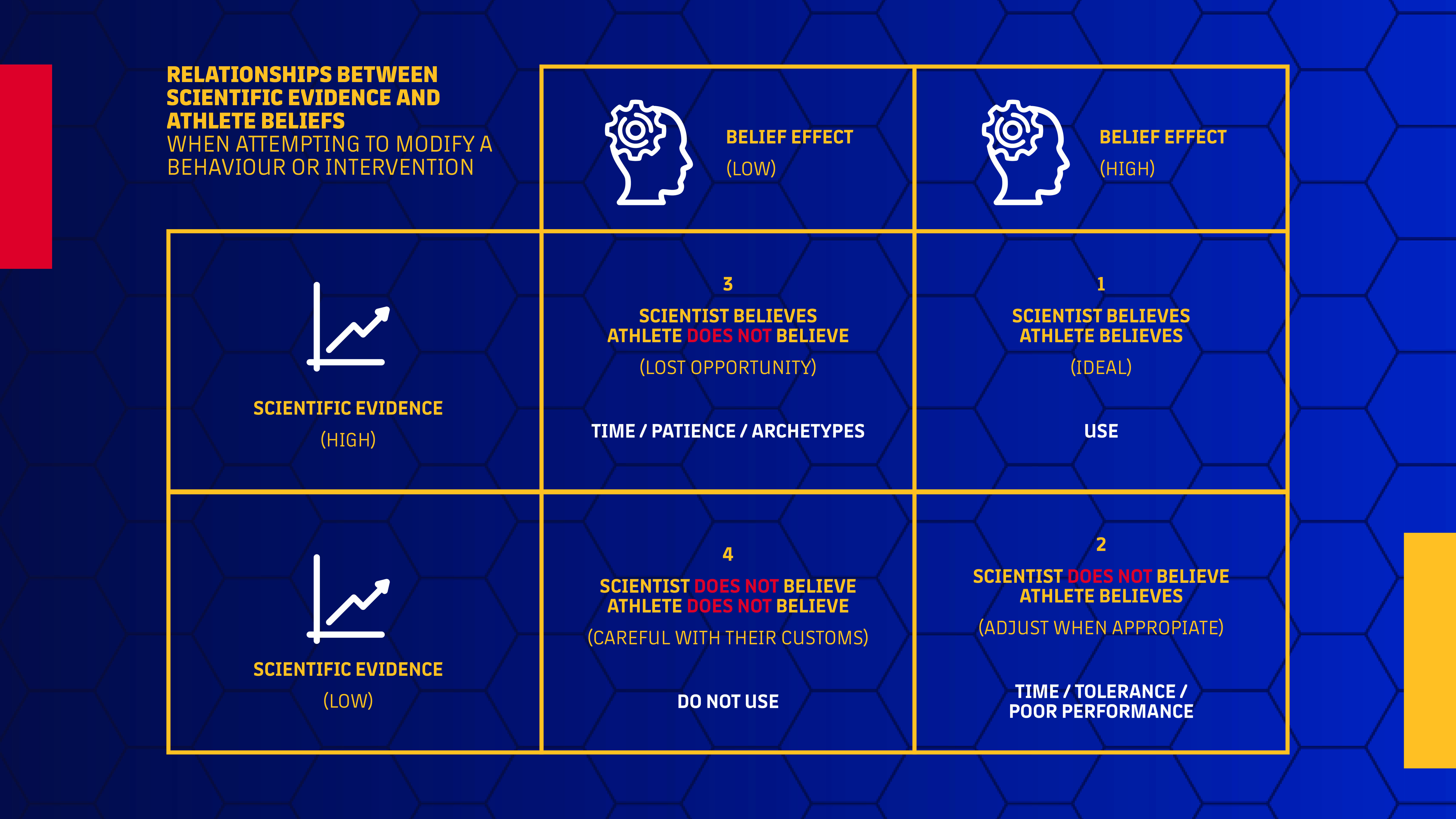 Carlos Lago Peñas
References:
1 Buchheit, M. (2017). Houston, We Still Have a Problem. Int. J. Sports Physiol. Perform. 12, 1111–1114.
2 Calleja-González J, Terrados N, Martín-Acero R, Lago-Peñas C, Jukic I, Mielgo-Ayuso J, Marqués-Jiménez D, Delextrat A and Ostojic S (2018) Happiness vs. Wellness During the Recovery Process in High Performance Sport. Front. Physiol. 9:1598.
DO YOU WANT TO KNOW MORE?
KEEP UP TO DATE WITH OUR NEWS
Do you have any questions about Barça Universitas?
Startup
Research Center
Corporate
PLEASE COMPLETE THE FIELDS:
PLEASE COMPLETE THE FIELDS:
PLEASE COMPLETE THE FIELDS:
The Form has been sent successfully.
PLEASE COMPLETE THE FIELDS:
PLEASE COMPLETE THE FIELDS:
PLEASE COMPLETE THE FIELDS:
The Form has been sent successfully.
PLEASE COMPLETE THE FIELDS:
PLEASE COMPLETE THE FIELDS:
PLEASE COMPLETE THE FIELDS:
The Form has been sent successfully.