The training adaptations depend on the specificity of stimuli generated during the session. In football, there is a player that differs from the rest: the goalkeeper. The data about goalkeepers' demand during matches shows that they cover approximately half the distance covered by a field player. If a player covers around 10 to 12 km, a goalkeeper covers 4 to 6 km.1 Besides, goalkeepers perform 90% fewer actions at a high intensity (above 19.8 km/h) than the rest of the players.1,2 This lighter workload during matches replicates during training sessions, given that goalkeepers cover half the distance: 3 km vs. 5 and 7 km.2,3
This impacts both on the work session proposals to improve the goalkeepers' specific physical condition and the energy requirement derived from the work during training sessions and matches. Therefore, diet and training programmes should be different from those of the field players. Moreover, according to a study that analysed the body composition of more than 80 players from different categories of a Premier League team, goalkeepers usually weigh more and have a higher body fat percentage than the rest of the players.4 For this reason, nutritional strategies should be aimed at achieving an optimum body composition, taking into account the characteristics of each position, as excess body fat can negatively affect sports performance.
What is the Energy Expenditure of a Goalkeeper and What is the Workload Distribution Throughout a Week?
The difference in training load presumably shows a lower energy expenditure. The most precise data about how many calories a goalkeeper in elite football burns was recently published in a study led by the prestigious researchers Dr. Graeme L. Close and Dr. James P Morton from Liverpool John Moores University.5 Throughout a week which included two matches, researchers quantified the workload of a Premier League goalkeeper and measured his energy expenditure by using doubly labelled water, the most precise technique. The results showed that, during that week, the goalkeeper had an average energy expenditure of 2 894 kcal, while his caloric intake was 3 160 kcal. If compared with a study performed among field players published by these same researchers,6 the goalkeeper burned around 600 kcal less than the field players (3 566 ± 585 kcal). This is because, as it has been mentioned above, the goalkeeper had a lighter workload. If compared with the study that analysed field players, the goalkeeper ran less (26.4 vs. 20.9 km) and at a lower intensity (distance at high speed: 3.4 vs. 0.4 km). Although only one week was analysed and the n is very low, these results suggest again that the energy requirements of a goalkeeper seem to be less than those of the field players.
Also, the workload distribution was considerably higher on match days. Even though the goalkeeper covered an average distance of 1,959 m during training sessions, he covered 4,574 m during a match. These results coincide with the ones obtained from a study that has just been published which analysed 20 goalkeepers from the Spanish second division.7 This study showed that the load was also significantly higher on match days. For example, in a match, they covered an average of 5,768 m, whereas in training sessions 2,821 m and 3,638 m. Thus, as it can be seen in figure 1, all external load variables were reduced progressively as they approached match day. According to the authors, although this periodisation proposal aims at guaranteeing total recovery and getting to the match in the best possible shape, the differences between training and match demands "highlight the need for fitness exercises that reproduce the professional goalkeepers' performance needs. As an example, performing exercises that increase running distances and actions with high metabolic loads."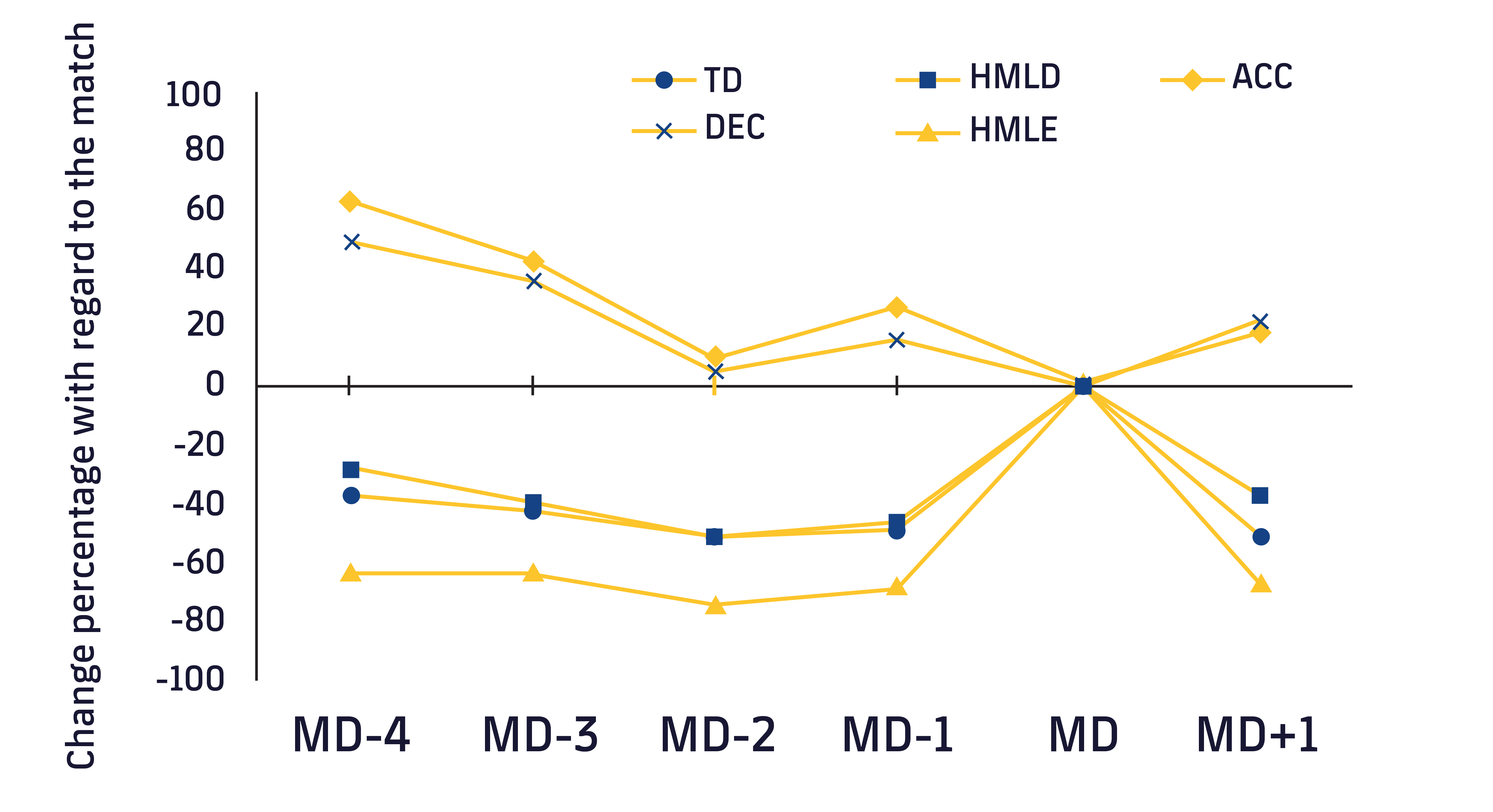 In summary, this information suggests that goalkeepers perform a lighter workload throughout the week which results in less energy expenditure. Besides, the load distribution shows that actions performed at high metabolic loads are higher during the match in comparison to training sessions. For that reason, this data could serve as a guideline for coaches and nutritionists when managing workload, as well as elaborating nutritional plans for optimising goalkeepers' recovery and performance during the season.
BIHUB team
References:
Di Salvo V, Benito PJ, Calderón FJ, Di Salvo M, Pigozzi F. Activity profile of elite goalkeepers during football match-play. J Sports Med Phys Fitness. 2008 Dec;48(4):443—446.
Malone JJ, Jaspers A, Helsen W, Merks B, Frencken WGP, Brink MS. Seasonal Training Load and Wellness Monitoring in a Professional Soccer Goalkeeper. Int J Sports Physiol Perform. 2018;13(5):672–5.
Anderson L, Orme P, Di Michele R, Close GL, Morgans R, Drust B, et al. Quantification of training load during one-, two- and three-game week schedules in professional soccer players from the English Premier League: implications for carbohydrate periodisation. J Sports Sci. 2016 Jul 2;34(13):1250–9.
Milsom J, Naughton R, O'Boyle A, Iqbal Z, Morgans R, Drust B, et al. Body composition assessment of English Premier League soccer players: a comparative DXA analysis of first team, U21 and U18 squads. J Sports Sci. 2015 Oct 21;33(17):1799–806.
Anderson L, Close GL, Morgans R, Hambly C, Speakman JR, Drust B, et al. Assessment of Energy Expenditure of a Professional Goalkeeper from the English Premier League Using the Doubly Labeled Water Method. Int J Sports Physiol Perform. 2019;14(5):681–4.
Anderson L, Orme P, Naughton RJ, Close GL, Milsom J, Rydings D, et al. Energy Intake and Expenditure of Professional Soccer Players of the English Premier League: Evidence of Carbohydrate Periodization. Int J Sport Nutr Exerc Metab. 2017;27(3):228–38.
Moreno-Pérez V, Malone S, Sala-Pérez L, Lapuente-Sagarra M, Campos-Vazquez MA, Del Coso J. Activity monitoring in professional soccer goalkeepers during training and match play. Int J Perform Anal Sport. 2020 Jan 2;20(1):19–30.
DO YOU WANT TO KNOW MORE?
KEEP UP TO DATE WITH OUR NEWS
Do you have any questions about Barça Universitas?
Startup
Research Center
Corporate
PLEASE COMPLETE THE FIELDS:
PLEASE COMPLETE THE FIELDS:
PLEASE COMPLETE THE FIELDS:
The Form has been sent successfully.
PLEASE COMPLETE THE FIELDS:
PLEASE COMPLETE THE FIELDS:
PLEASE COMPLETE THE FIELDS:
The Form has been sent successfully.
PLEASE COMPLETE THE FIELDS:
PLEASE COMPLETE THE FIELDS:
PLEASE COMPLETE THE FIELDS:
The Form has been sent successfully.