Many countries have had to implement numerous preventive strategies due to the pandemic, and confinement is one of the most notable ones. Most people, including athletes, have been forced to stay at home to reduce the spread of the virus. This restriction of movement has led to a reduction of physical activity, which brings physiological consequences for all the population (such as strength and muscle loss, and the deterioration of cardiorespiratory capacity and metabolic health), but especially for athletes who are used to heavy training loads.1
The effects of inactivity on athletes
Different scientific articles have previously shown the negative effects of several weeks without training, or reducing the training load for athletes, known as 'detraining'.2 For example, a recent study showed that two weeks of detraining are enough to reduce performance in an intermittent test of high intensity in semi-professional footballers, but these weeks did not affect their performance in other markers such as agility, strength or sprint.3 Similarly, a systematic review concluded that a 7 week detraining period (similar to confinement) for rugby and American football players, induced strength and power loss of 14.5 and 0.4% respectively.4 Moreover, two weeks of detraining have shown to worsen the muscle oxidative capacity and high-intensity interval training in elite football athletes.5 However, it is worth mentioning that other studies carried out with footballers have shown that, if high-intensity training is included during this period of detraining despite reducing the volume by up to 30%, these negative adaptations seem to be avoided and even improvements in performance can be achieved.5,6 For that reason, including high-intensity training is currently recommended in order to keep the adaptations during periods in which the training volume is reduced, as it occurs during holidays.2
The effects of confinement on athletes
Based on all this evidence, during the peak of the pandemic, different articles suggested that elite athletes would suffer some level of 'detraining' during the weeks of confinement.7,8 However, the evidence of this has come to light only recently.
A study carried out by Dr. Jesus Pallarés' group with 18 professional cyclists has shown that, even though it has been possible to relatively maintain the training loads in this sport during confinement thanks to the use of bike rollers, the athletes reduced their training volume by 34% on average, which resulted in loss of performance in tests of 5 (12% on average) and 20 minutes (9% on average).9
Moreover, a study led by Marc Madruga Parera, strength and conditioning coach at FC Barcelona's second team, has analysed the effects of 49 days of confinement for 30 semi-professional football players.10 For that, they assessed the strength of the hamstring muscles thanks to the 'Nordic Hamstring' exercise using a video analysis as we have commented on previous articles , which allowed them to monitor the levels of strength not being together. As shown in Figure 1, the breakpoint angle during this exercise decreased 4.4% between days 14 and 49 of confinement, which results in a 14% loss of eccentric strength.10 These adaptations are especially alarming, because, as we have previously mentioned, low strength of the hamstring muscles is a significant risk factor for getting injured.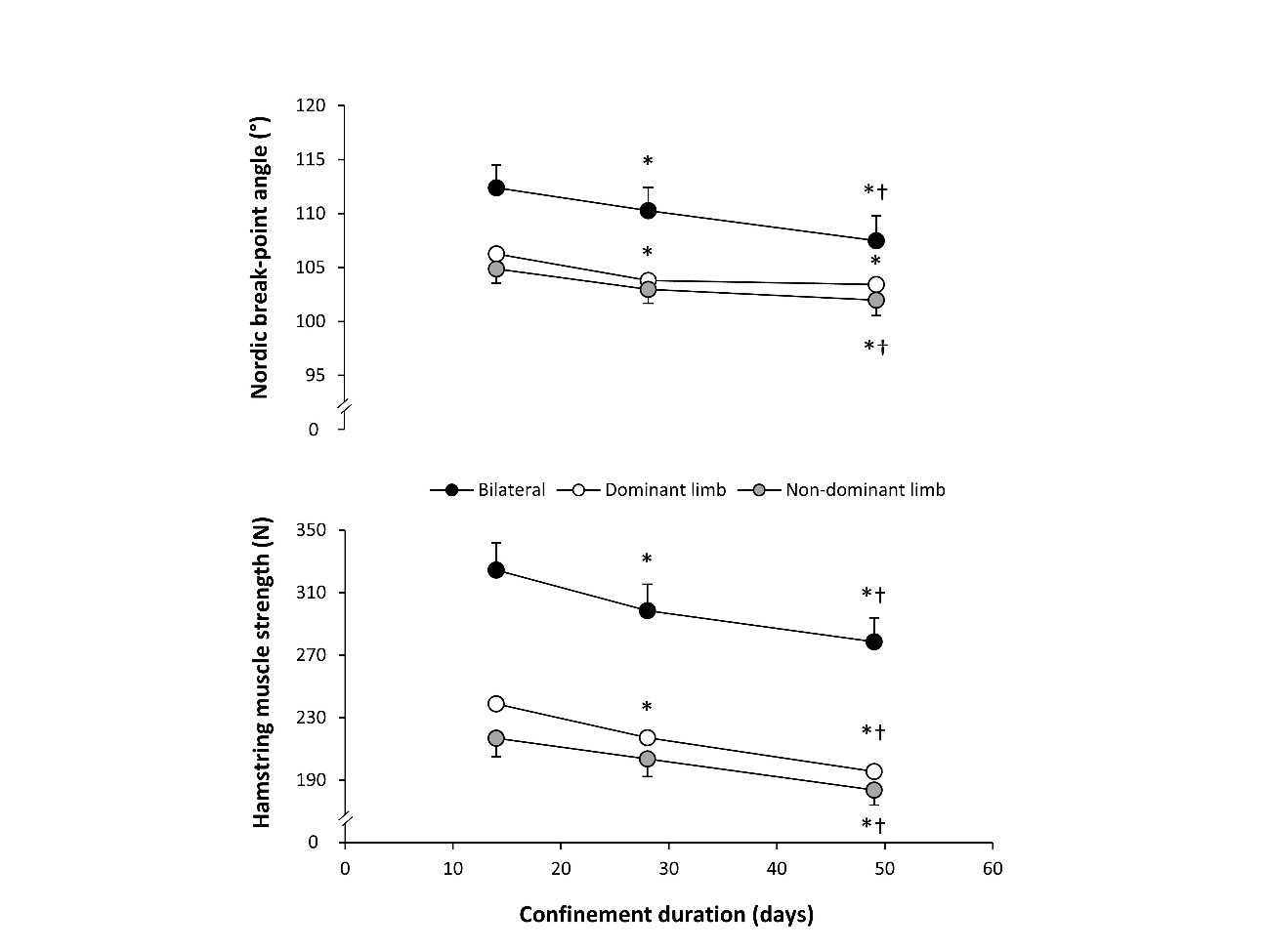 Furthermore, a study performed by Brazilian researchers analysed 23 professional football players before and after 63 days of confinement and compared these changes with those taking place after 24 days during their holiday rest period in the previous year.11 The results showed that confinement led to greater body weight and fat gain, and further worsened sprint (10 and 20 metres) and jump performance.
It is important to mention that these adaptations will not only result in bad performance when they go back to the sports practice, but they will also most likely be exposed to a greater risk of injury. For example, in 2011, the National Football League (NFL) stopped for more than 3 months as a consequence of a strike, during which the athletes could not train normally, go to the sports facilities or even be in touch with the medical services. After they went back to practice, injuries escalated. Thus, while in previous seasons they had around 5 Achilles tendon injuries in total, during the season after the strike they had 10 injuries during the first 12 days of sports practice (Figure 1).12
Conclusions
In summary, periods of detraining as long as those produced by the confinement can result in a significant loss of performance even in players who tried to maintain their training standards at home doing strength circuits, high-intensity exercises, etc., which can also increase the risk of injury. The coaching staff must consider these adaptations in order to progressively increase the training loads and the level of competition when things go back to normal.
Pedro L. Valenzuela
References
Narici M, De Vito G, Franchi M, et al. Impact of sedentarism due to the COVID-19 home confinement on neuromuscular, cardiovascular, and metabolic health: Physiological and pathophysiological implications and recommendations for physical and nutritional countermeasures. Eur J Sport Sci 2020; 0: 1–22.
Mujika I, Padilla S. Detraining: Loss of training induced physiological and performance adaptation. Part I. Short term insufficient training stimulus. Sport Med 2000; 30: 79–87.
Joo CH. The effects of short term detraining and retraining on physical fitness in elite soccer players. PLoS One 2018; 13: 1–15.
McMaster DT, Gill N, Cronin J, et al. The development, retention and decay rates of strength and power in elite rugby union, rugby league and american football: A systematic review. Sport Med 2013; 43: 367–384.
Christensen PM, Krustrup P, Gunnarsson TP, et al. VO2 kinetics and performance in soccer players after intense training and inactivity. Med Sci Sports Exerc 2011; 43: 1716–1724.
Thomassen M, Christensen PM, Gunnarsson TP, et al. Effect of 2-wk intensified training and inactivity on muscle Na +-K+ pump expression, phospholemman (FXYDI) phosphorylation, and performance in soccer players. J Appl Physiol 2010; 108: 898–905.
Andreato L V., Coimbra DR, Andrade A. Challenges to Athletes During the Home Confinement Caused by the COVID-19 Pandemic. Strength Cond J 2020; 42: 1–5.
Sarto F, Impellizzeri F, Spörri J, et al. Impact of potential physiological changes due to COVID-19 home confinement on athlete health protection in elite sports: a call for awareness in sports programming. Sport Med; In press.
Muriel X, Courel-Ibáñez J, Cerezuela-Espejo V, et al. Training Load and Performance Impairments in Professional Cyclists During COVID-19 Lockdown. Int J Sport Physiol Perform; In press.
Moreno-Pérez V, Del Coso J, Romero-Rodríguez D, et al. Effects of home confinement due to COVID-19 pandemic on eccentric hamstring muscle strength in football players. Scand J Med Sci Sport 2020; 30: 2010–2012.
Grazioli R, Loturco I, Manfredini Baroni B, et al. COVID-19 quarantine is more detrimental than traditional off-season on physical conditioning of professional soccer players. J Strength Cond Res; In press.
Myer GD, Faigenbaum AD, Cherny CE, et al. Did the NFL lockout expose the achilles heel of competitive sports. J Orthop Sports Phys Ther 2011; 41: 702–705.
DO YOU WANT TO KNOW MORE?
KEEP UP TO DATE WITH OUR NEWS
Do you have any questions about Barça Universitas?
Startup
Research Center
Corporate
PLEASE COMPLETE THE FIELDS:
PLEASE COMPLETE THE FIELDS:
PLEASE COMPLETE THE FIELDS:
The Form has been sent successfully.
PLEASE COMPLETE THE FIELDS:
PLEASE COMPLETE THE FIELDS:
PLEASE COMPLETE THE FIELDS:
The Form has been sent successfully.
PLEASE COMPLETE THE FIELDS:
PLEASE COMPLETE THE FIELDS:
PLEASE COMPLETE THE FIELDS:
The Form has been sent successfully.