Players' conditional response during competition, for example, distance covered at a run, has traditionally been described using the average value covered (in metres per minute) during a half or full game. Later on, shorter game periods were studied (e.g. 15 minutes in Robinson, O'Donoghue, Wooster, 2011; or five minutes in Bradley & Noakes, 2013), which showed more intense periods. However, it has recently been proven (Gabbet et al., 2016) that these values taken from static periods may not represent maximum demand scenarios or MDS. Recently, the application of the rolling technique (Varley et al., 2012) has allowed researchers to confirm the existence of more demanding conditional scenarios than the average values used up to now (Are small-sided games the solution to all our problems?).
This technique examines second by second (or frame by frame, depending on the sampling unit) the chosen period or interval (e.g. 1, 3, 5 or 10 minutes) which is used to determine the highest values of physical variables used as a reference (e.g. distance covered at a speed greater than 14 Km·h-1). Both quantities – the period or established timeframe and the chosen physical performance variable – follow the mathematical relationship indicated in the power law (Katz and Katz, 1999). Thus, when the timeframe is larger, the relative value of the conditional variable decreases. In football, for example, when the timeframe is close to 15 minutes, the conditional variable values are very similar to the average values for a partial or complete game (Lacome et al., 2018).
As well as refining the description of MDS (Martín-García et al., 2018), sports scientists are also beginning to take an interest in understanding whether these scenarios can be replicated in the training process. Specifically, they are asking whether there are play-related tasks that allow them to be replicated (Lacome et al., 2018). This paper explores this idea by applying two original concepts: first, it connects the MDS from multiple variables simultaneously; and second, it compares the MDS from positional play in relative terms to the MDS recorded by each player in competition (e.g. distance covered in % with respect to MDS in competition for the same variable).
The participants were 21 players from FC Barcelona's reserve team during the 2015-2016 season, and they were grouped by standard positions: centre backs (CD, n=4), full backs (FB, n=6), midfielders (MF, n=3), attacking midfielders (AMF, n=3), and forwards (FW, n=5). The time windows and positional play studied were: 1) 5-minute windows for small-sided games (SSG) [SSG5, players per team = 5, goalkeepers = 2, dimensions= 33*40m, and duration = 6 ±1 min; SSG6, players per team = 6, goalkeepers = 2, wild cards = 1, dimensions= 33*40m, and duration = 6 ±1 min] and 10 minutes for long-sided games (LSG) [SSG9, players per team = 9, goalkeepers = 2, dimensions = 72*65 m, and duration = 12 ±3 min; SSG10, players per team = 10, goalkeepers = 2, dimensions = 105*65 m, and duration = 11 ±3 min] and in competitive matches, which had a timeframe of 45 minutes. The variables analysed represented the different movement systems (locomotor, mechanical, and energetic), such as total distance covered or distance covered at high speed, accelerations/decelerations, or variables related to metabolic power, respectively. The main results are shown in the following figures (1, 2 and 3). The charts give a percentage with respect to periods of maximum demand in the game compared to distance in metres per minute (Figure 1), distance at more than 25 km·h-1 (Figure 2) and number of accelerations, or ACC (Figure 3). The red dashes represent 100% and indicates the limit up to which MDS would be replicated in competition.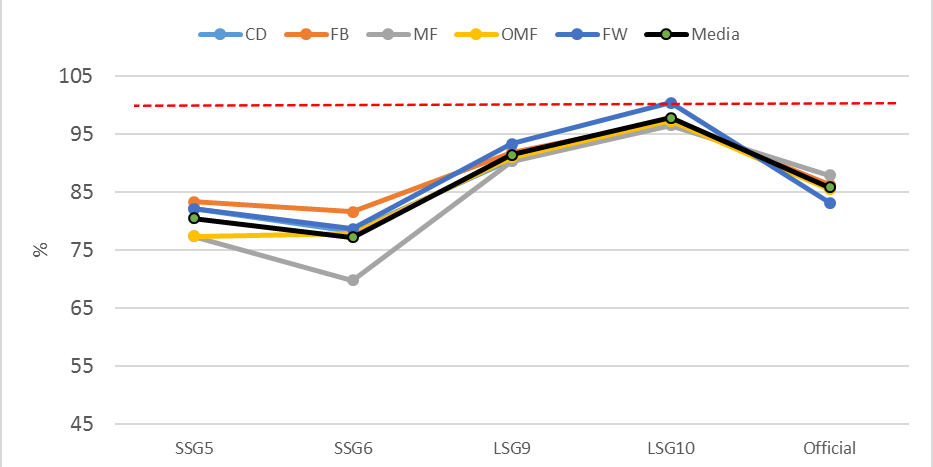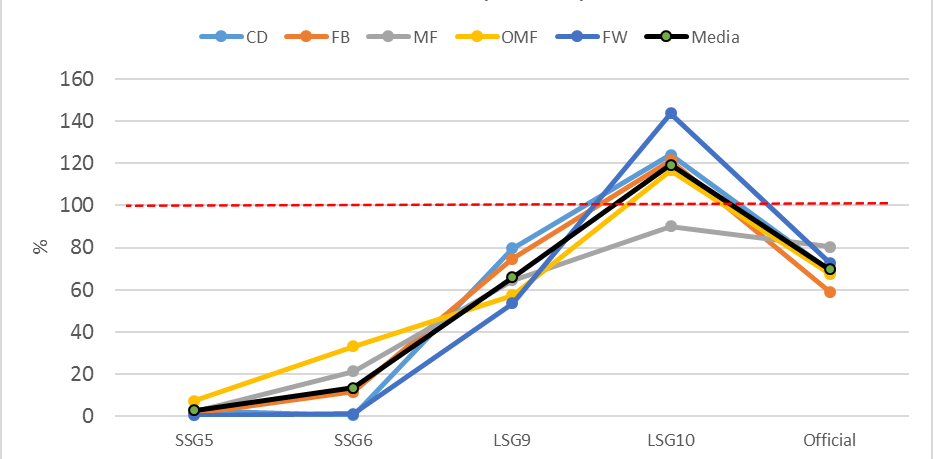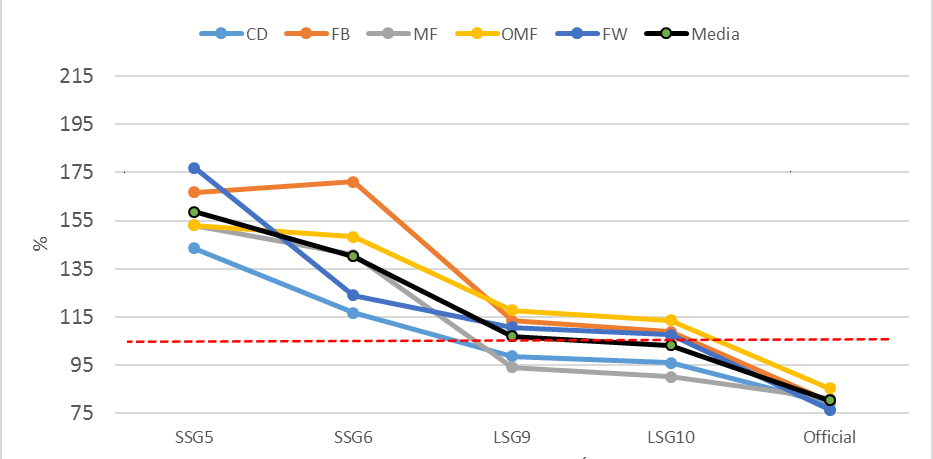 The main conclusions of the study were as follows:
The different formats of play replicate MDS in competition to different extents, depending on each position within the game.
For all the variables, the average values obtained over the 45 minutes that make up one half, were lower than the MDS (from 70% to 80%) of a 10-minute timeframe during competition.
As formats of play become longer, the demand in terms of total distance covered and distance covered at speeds higher than 25 km/h increases. However, demand with respect to competition for the ACC variable (and deceleration, or DEC) increases when formats of play are reduced.
LSG10 played for 10 minutes replicate the majority of the MDS demands, and achieved greater sprint demands, while in formats with fewer players, ACC and DEC values are notably over-stimulated (> 120%).
With respect to the competition of each player, the demands of competition MDS are individual. In smaller formats (SSG5 and SSG6), greater differences appear between positions in the ACC variable and in total distance.
If the objective is to reach greater MDS than those in competition, play formats should not extend for more than the 15 minutes of training games or LSG10.
More information about MDS in competition is needed, and it is also important to clarify whether the formats played are capable of replicating these. Their application is related to mithridatism, or self-protection from these MDS by making them tolerable through gradually exposing players to them. This leads to the need to incorporate into the training process contexts in which these scenarios are addressed (e.g. by creating specific tasks), giving players the opportunity to become 'immunised' and more able to confront with confidence (and thus with reduced injury risk) this type of demanding conditional scenario which may come up in competition.
Original article
Martín-García, A., Castellano, J., Gómez, A., Cos, F., & Casamichana, D. (2019). Positional demands for various-sided games with goalkeepers according to the most demanding passages of match play in football. Biology of Sport, 36(2), 171–180.
References
Bradley PS. and Noakes TD. (2013) Match running performance fluctuations in elite soccer: indicative of fatigue, pacing or situational influences? Journal of Sports Sciences 31, 1627-1638.
Gabbett TJ, Kennelly S, Sheehan J, Hawkins R, Milsom J, King E, Ekstrand J. If overuse injury is a 'training load error', should undertraining be viewed the same way? Br J Sports Med. 2016;50:1017-1018.
Katz J, Katz L. Power laws and athletic performance. J Sports Sci. 1999;17(6):467-476.
Lacome M, Simpson BM, Cholley Y, Lambert P, Buchheit M. Small-Sided Games in Elite Soccer: Does One Size Fit All? Int J Sports Physiol Perform. 2017;1-24.
Martín-García A, Casamichana D, Díaz, AG, Cos F, Gabbett, TJ. Positional Differences in the Most Demanding Passages of Play in Football Competition. J Sports Sci Med. 2018;17(4):563.
Robinson G, O'Donoghue P, Wooster B. Path changes in the movement of English Premier League soccer players. J Sports Med Phys Fitness. 2011;51(2):220-6.
Varley, M.C., Elias, G.P. and Aughey, R.J. (2012) Current match-analysis techniques' underestimation of intense periods of high-velocity running. International Journal of Sports Physiology and Performance 7, 183-185.
Julen Castellano
DO YOU WANT TO KNOW MORE?
KEEP UP TO DATE WITH OUR NEWS
Do you have any questions about Barça Universitas?
Startup
Research Center
Corporate
PLEASE COMPLETE THE FIELDS:
PLEASE COMPLETE THE FIELDS:
PLEASE COMPLETE THE FIELDS:
The Form has been sent successfully.
PLEASE COMPLETE THE FIELDS:
PLEASE COMPLETE THE FIELDS:
PLEASE COMPLETE THE FIELDS:
The Form has been sent successfully.
PLEASE COMPLETE THE FIELDS:
PLEASE COMPLETE THE FIELDS:
PLEASE COMPLETE THE FIELDS:
The Form has been sent successfully.