Sports performance is largely determined by the ability of medical and technical staff to reduce the risk of injury to players and, when they occur, to manage them in the best way possible. Are there differences between men and women when creating a rehabilitation programme? In a first presentation, Roger Ollé, first team physiotherapist for the FC Barcelona women's team, explained that the objectives and stages in both cases are the same. However, despite these similarities, he emphasised that female athlete rehabilitation programmes are more complex because more questions are asked across all phases. Another aspect that should be taken into account is the hormonal differences between men and women, which makes women have a lower pain threshold.
How does the doctor react when he/she sees an injured player? This question has been answered by Dr Eva Ferrer, first team doctor FC Barcelona women's team. From the moment you see a player on the grass, you observe how they behave, ask them how they feel, how the injury happened. Paying attention to gestures and listening from the outset is essential to start the process correctly. In addition, it is important for the player to see that there is fluid communication between the medical staff, physios and trainers. You should know how it evolves, why you do what you do, and have the confidence to express your feelings to the trainers.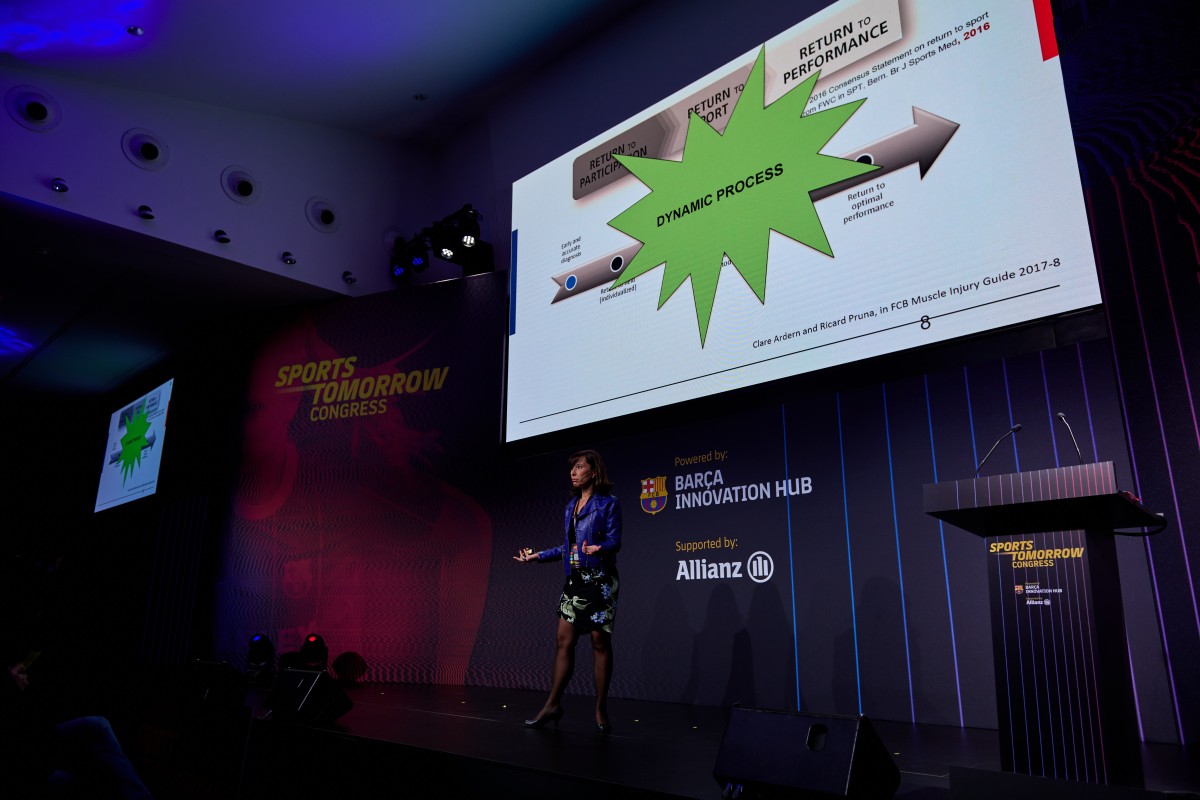 Data showing the importance of rehabilitation has been provided by Dr Abigail Mackey (Copenhagen University): a seven-day delay to the start of rehabilitation may imply that a return to playing is delayed by three weeks. This highlights that the start time is critical. The researcher shows microscopic images in which show how satellite cells multiply ninefold after an injury and how macrophage infiltration accelerates the repair process.
Concussion, an injury we need to be aware of
Concussion after a head impact is an injury that requires a prolonged recovery process and one that affects female athletes to a greater extent. This may be due in part to the fact that women have a higher blood risk and energy consumption in the brain, in addition to different muscle structure in the neck. This injury may have ongoing symptoms some time after the injury, so it should be treated with great care. Therefore, a return to playing must be agreed by the medical staff with the understanding that it may involve higher risk if rushed.
Are there differences in tendon injuries between men and women?
Dr Jill Cook (The Trobe University, Australia) has explained how women have a lower rate of tendon injuries, something that may be partly due to their greater capacity to store energy in their tendons. This changes after menopause, when the risk increases. To address this issue, she has presented the results of the GLOBE trial, a controlled trial which analysed the impact of exercise and hormone replacement therapy on postmenopausal women. Results showed that exercise improved results in all groups and hormone therapy only in women with a BMI <25.
What is the difference in the maturation processes between boys and girls?
Dr Dai Sugimoto (Boston Children's Hospital) has indicated that growth in girls begins earlier. In girls, puberty begins at 8-12 years of age and in boys at 12-14. This is related to an increase in motor incoordination, which is related to an increase in the risk of injury at this age. "Special attention must be paid to girls in this age group in order to improve neuromuscular coordination." It is necessary to carry out injury prevention programmes, especially involving strength training.
Due to the importance of the Masia academy for the future of FC Barcelona, Dr Mindaugas Gudelis has analysed how they manage injuries at the club. He has placed special emphasis on apophysitis, an injury that occurs in particular during the growth of players. He has presented the results of a study by the club that has analysed more than 1900 players aged 7-19 years (2008-2015) which recorded 210 cases, i.e. 27 cases per year.
Is it possible to predict injuries?
In order to try and predict injuries, it is important to identify candidates who have an increased risk of injury. Alan McCall, a scientific consultant at FC Barcelona, highlights that injuries are complex processes and that we are not able to accurately predict risk, at least with current models. "It's like assembling a puzzle". The problem lies in the fact that the data we have available to find the risk of injury is limited, even more so in women, where we only have the possibility of analysing (in most cases) factors such as external loads, wellness or age.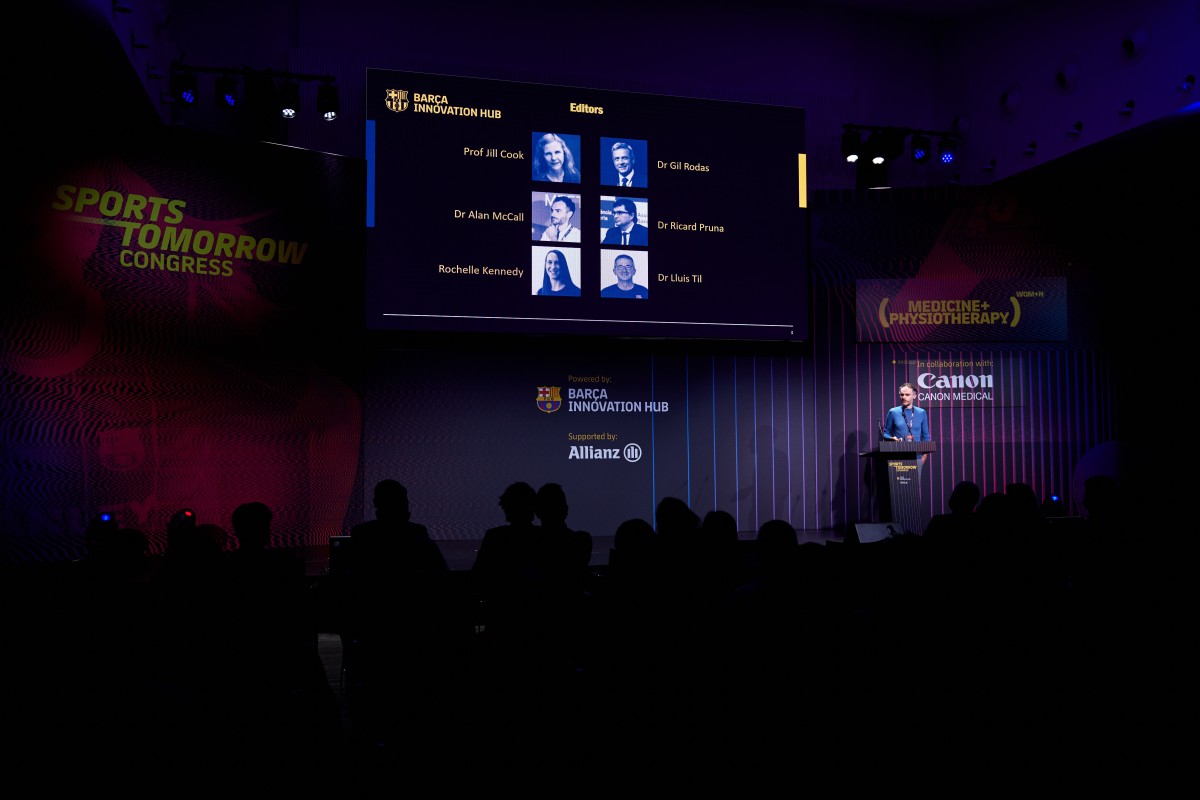 Dr Juan Ramón González of the Barcelona Global Health Institute (ISGlobal) states the same: "using simple associations for complex environments does not work". The researcher explains how the ISGlobal models could help improve methods for predicting injury risk. He highlights that through dynamic models of longitudinal biomarkers using omic data, they have managed to improve predictive capacity. He also emphasised that in order to improve the quality of more complex models, it is necessary to increase the population studied. To achieve this, he recommends the sharing of enormous databases retained by some biobanks, always respecting confidentiality.
Objective: to return to optimal condition after an injury
Dr Ritan Mehta, a doctor for the English women's football team, talks about optimising the Return to Play process. He highlights the case of a player who suffered a tendon injury days before competing in the Olympic Games. She explains how the medical team studied the context of the injury and that of the player, the schedule of games and training, as well as the key steps to follow in order to maximise the results following the same roadmap. After outlining the different phases of the process, as well as some treatments used (e.g. blood flow restriction, platelet-rich plasma, triple therapy), the player managed to re-join the team 11 days after injury, playing in the third game of the tournament for 20 minutes.
To help both trainers and athletes reduce the risk of injury or, if one has occurred, optimise the return to activity, biomechanics can be a fundamental tool to employ. This theme is addressed by Dr Ventura Ferrer, sports biomechanic at the Sant Cugat High Performance Centre in Barcelona. "Biomechanics helps to minimise the risk of injury by evaluating the athlete's movement and their adaptation to the load." In addition, it can help the recovery process and maintain an athlete's motivation, as they receive objective information with which to make decisions. Similarly, Dr Javier Nuñez Villar of Atletico Madrid has shown how biomechanics are used to analyse potential muscle loss by raising the contralateral leg.
In order to provide support to the clinicians, Dr Clare Ardern has taught several courses in order to guide decision making in the return to play process, incorporating the importance of the psychological aspect.
The importance of the mental aspect
In relation to the multidisciplinary work necessary to prevent injuries, Tatiana Ferreira has explained how Benfica works. One aspect they take seriously is the psychological aspect, and the club employs up to 12 psychologists. While at technical and physical levels, the players prepare daily, the psychological aspect has traditionally been a non-priority area but is now being shown to be very important. "At Benfica we want players to think about what they are doing and help them manage stress and their mental health." To do this, we are carrying out workshops in which the players start with "the leaders" of the group (e.g. trainers, medical staff, etc.) to create an educational context that allows them to establish a long-lasting formula.
Energy deficiency and eating disorders in high-performance sports
Dr Kathryn Ackerman (Boston Children's Hospital) has explained the importance of detecting energy deficiency syndrome in athletes, especially in girls. According to a study in which more than 1000 women (5-30 years) were analysed, almost half presented with low energy availability, a syndrome that encompasses a complex reality that affects several systems in the body: muscle, immune, hormonal, bone, etc.
For his part, Dr Eduardo Serrano-Troncoso of Hospital Sant Joan de Déu of Barcelona has analysed eating disorders and how they can be prevented. In this sense, special care must be taken with athletes, since they are at greater risk of suffering eating disorders: 9 cases for every 1 in men.
How does the current lifestyle influence the metabolism of lipids in the muscles?
Today's lifestyle shows increasing obesity rates. This is producing a change in muscle metabolism of people who have this pathology. Due to this, Dr Clara Prats (Copenhagen University) explains how this sedentary lifestyle, in addition to a high caloric intake, influences the muscles. The most notable thing is that the energy factories of the cells, the mitochondria, reduce their number and function in the muscle. Its distribution is more spaced out in muscle tissue and has a greater presence of intramuscular lipids. In this sense, training can be a tool to reverse this situation.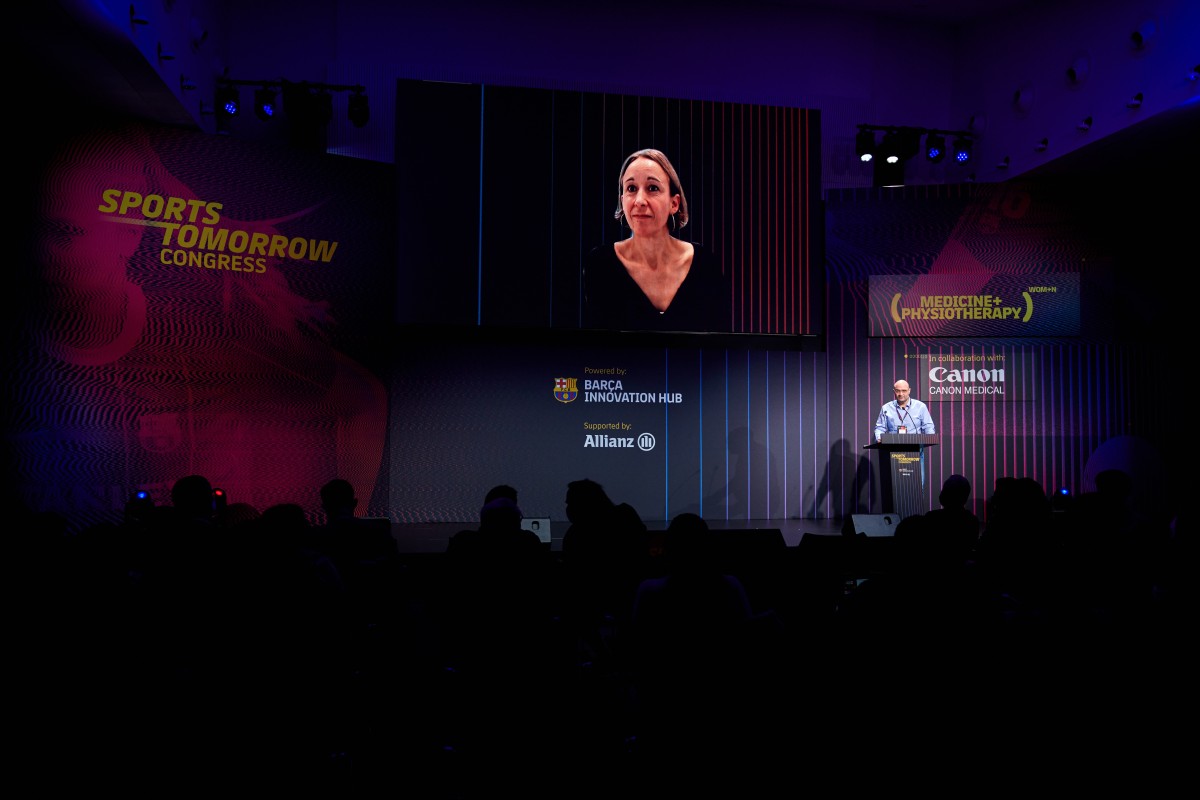 The practical approach of professional clubs
This second day has ended with examples of how two clubs such as FC Barcelona and Juventus work on injury prevention. Laura Ràfols, physiotherapist at FC Barcelona women's first team, has highlighted that not all injuries are the same, so there are no defined protocols. Mobilising the affected area early, using different surfaces (grass or sand) or varying the stimuli are some of the pillars on which the working methods of the club are based. In this same vein, Pilar Hueso, an injury specialist for the Juventus Women's team in Turin, has explained her methodology for preventing injuries. GPS tracking to quantify training loads or the use of mobile applications or videos to give the player as much information as possible are some of the important tools used in her day-to-day work.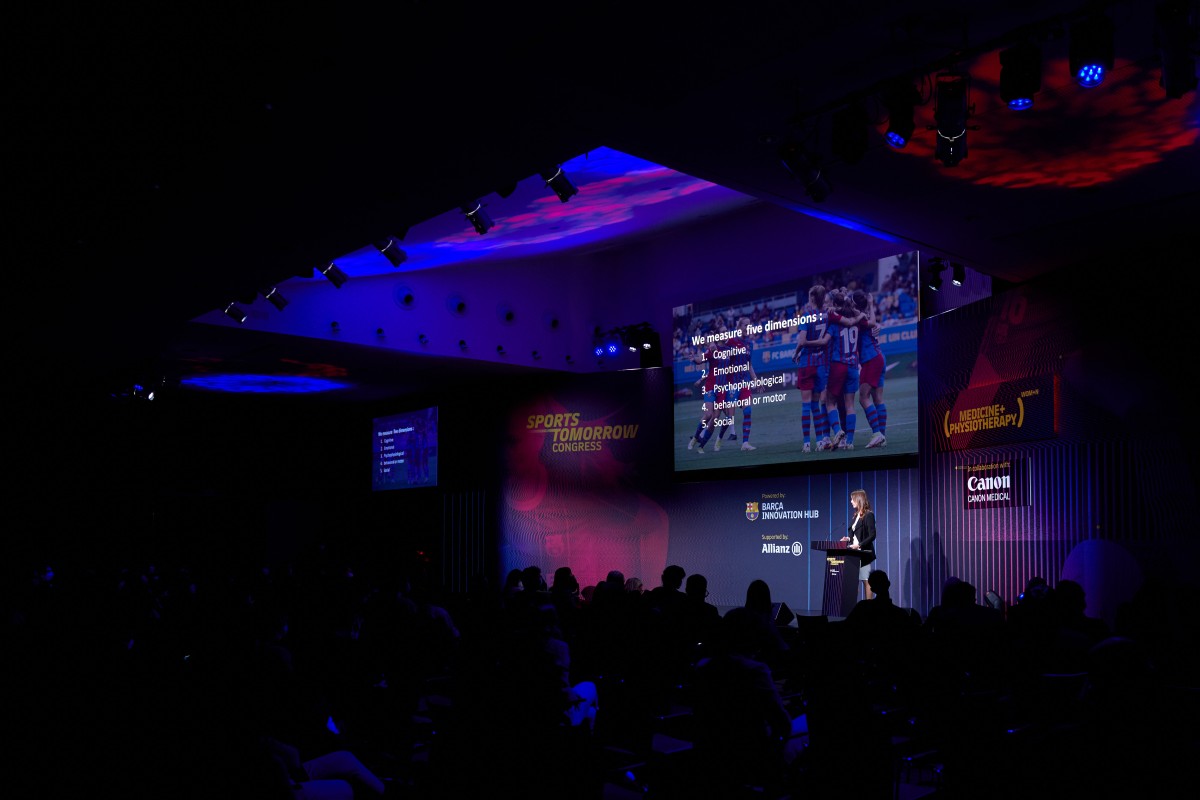 Although physical recovery is crucial, the psychological approach plays a priority role. Rocío Pomares, psychologist at FC Barcelona, has explained how unconscious thoughts after an injury can cause fears in players that significantly affect their recovery. Therefore, the club pays special attention to analysing and monitoring recovery from a psychosocial point of view.
DO YOU WANT TO KNOW MORE?
KEEP UP TO DATE WITH OUR NEWS
Do you have any questions about Barça Universitas?
Startup
Research Center
Corporate
PLEASE COMPLETE THE FIELDS:
PLEASE COMPLETE THE FIELDS:
PLEASE COMPLETE THE FIELDS:
The Form has been sent successfully.
PLEASE COMPLETE THE FIELDS:
PLEASE COMPLETE THE FIELDS:
PLEASE COMPLETE THE FIELDS:
The Form has been sent successfully.
PLEASE COMPLETE THE FIELDS:
PLEASE COMPLETE THE FIELDS:
PLEASE COMPLETE THE FIELDS:
The Form has been sent successfully.