In basketball, as in any other professional sport, the possibility of a shift in a medical paradigm can create a big buzz in the news. The discovery of ground-breaking information on injuries, especially those which cause time loss for players, is the most worrying for teams and fans. This could lead to reassess not only players' physical preparation and medical care but also how to improve sports performance. A study recently published, looks into this paradigm shift. But what exactly do we mean when we talk about a new paradigm?
It has always been thought that ankle sprain was the most frequent injury in basketball and one which causes the most time loss for teams. Although the scientific bibliography on the epidemiology of basketball is not extensive, it was thought that ankle injuries distinguished basketball from football, where muscle injuries are much more prevalent than other types of injury. This idea dictated the essential medical needs for basketball and determined training protocols and the injury prevention strategy. However, the results of several scientific studies could change this, including one recently published in the scientific journal Orthopaedic Journal of Sports Medicine. This investigation was led by Dr Gil Rodas, head of the Medical Department at Barça Innovation Hub and first division team doctor for the FC Barcelona basketball team during the study period (2007 to 2015). He was accompanied by Martí Casals, professor/researcher at the University of Vic – Central University of Catalonia (UVic-UCC), who also works as a biostatistician and expert in epidemiology at the FC Barcelona – Barça Innovation Hub Sports Science department. This study gives us food for thought as contrary to popular opinion, muscle injuries could also be the most frequent cause of time loss in basketball.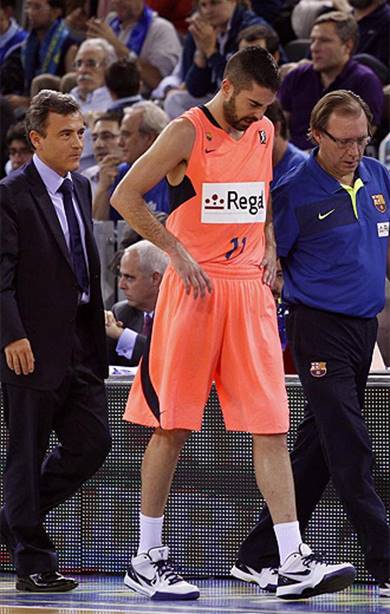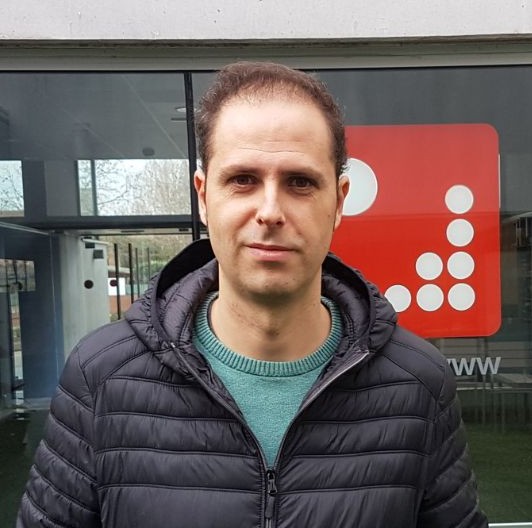 Nine years ago, Dr Rodas observed a possible trend that muscle injuries were perhaps more common in FC Barcelona's basketball team. Since the prevalence of muscle injuries over ankle injuries was not included in the generally accepted paradigm, he began to collect data in parallel to his clinical activity with the team. In order to contrast this new hypothesis and follow scientific methods, he suggested to the professor and researcher Martí Casals to use a statistical and scientific approach, in order to elaborate an epidemiological solution to the problem. And so began this study, consolidated through intense fieldwork but moving far beyond a mere accumulation of data, thanks to the multidisciplinary approach used to interpret the data collected. A team of professionals and researchers also took part in this study: Daniel Medina, ex-first division team doctor for the FC Barcelona football team with experience in the NBA (Philadelphia 76ers); Toni Caparrós, ex-strength and conditioning coach for FC Barcelona who also has experience in the NBA; Dai Sugimoto, medical specialist in injury prevention from the Harvard Medical School; Bruce Hamilton, medical specialist in high performance sport from the Millennium Institute of Sport and Health; the physiotherapist Toni Bové, whose broad experience in elite sports includes more than three decades in F.C. Barcelona's basketball first team; and Klaus Langohr, professor/researcher specialising in statistics at the Polytechnic University of Catalonia (UPC) and the GRBIO research group from the same university. These contributions allowed the professional experience of all the participants to be combined in situ with their academic background. This allowed them to build a correct and refined database that was developed monitoring closely the team according to a scientific method "suggesting a problem, collecting information, correcting and rigorously controlling the possible errors or bias as well as carrying out an initial descriptive analysis".
The results of this study on injury epidemiology in a professional basketball team (F.C. Barcelona) appears to support the initial hypothesis of a new trend in muscle injuries in professional teams, which does not appear in amateur basketball. This study appears to indicate that ankle injuries, which have always been considered to be the most common injury in basketball, are not the main cause of time loss.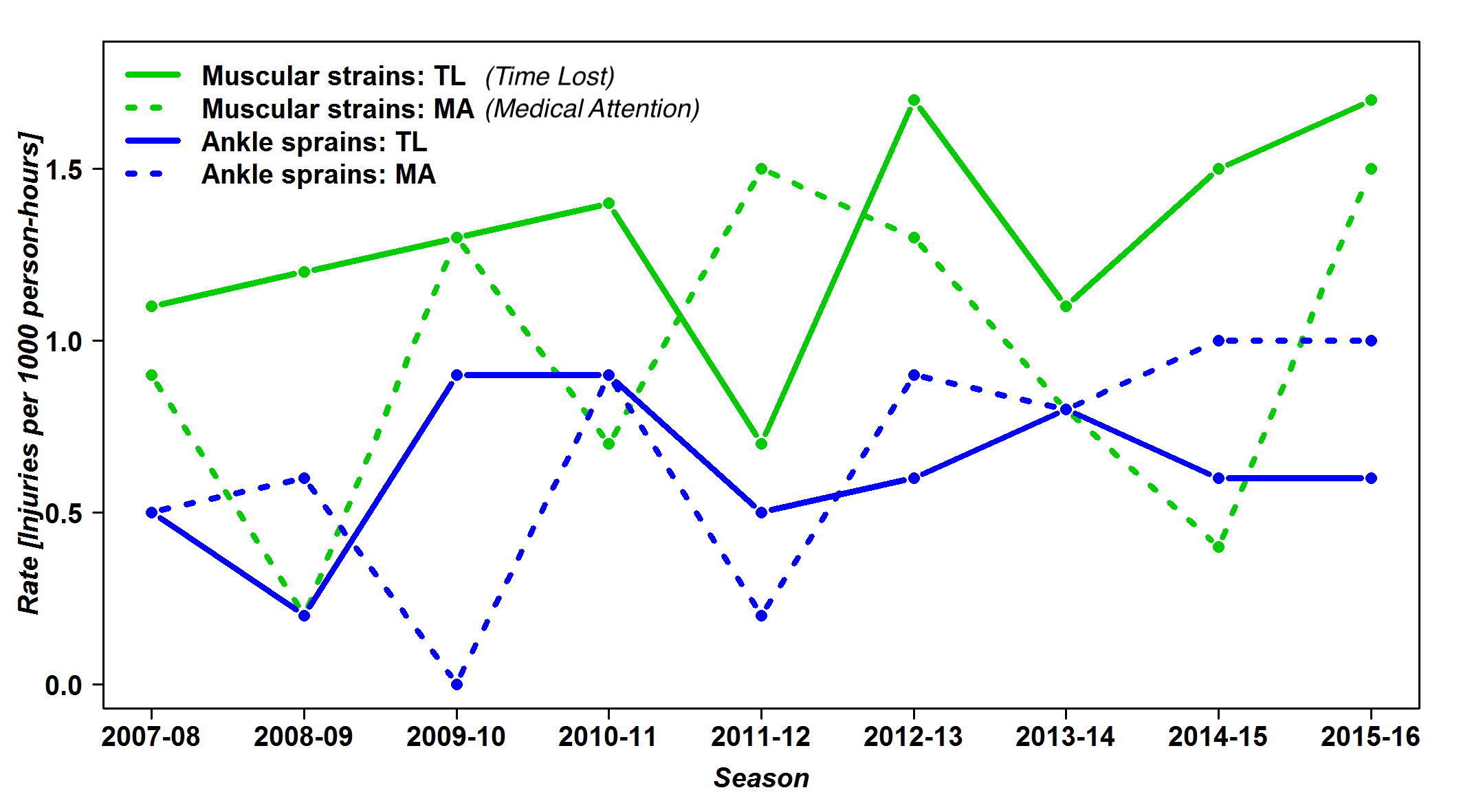 Although Professor Casals clarifies that the result of the study is currently only a snapshot of the hypothesis since it relates to one specific team, "it appears that other teams and other leagues such as the NBA are experiencing the same problem." This could change the view of some sports medicine staff working with basketball players. It also raises new questions, for example, the competition itself: the possibility that a less busy schedule of games could reduce the occurrence and severity of injuries. In the opinion of Dr Rodas, "a higher game density and intensity imply less recovery and therefore a greater risk of players suffering muscle injuries", something that Professor Casals agrees with: "Basketball has changed a lot in terms of physical contact, speed and demand". This explanation is also consistent with lower league basketball, where ankle injuries predominate as expected. According to Dr Rodas, "the individual technique of young players still needs time to develop and they do not have a physiotherapist binding their ankles every day". In fact, as amateur competitions become more and more similar to the professional game in terms of demand, the occurrence of muscle injuries "could also have an influence on the focus of our players' training", as referred to on the occurrence of injuries in young players.
So we seem to be on the verge of a new concept in medical constraints of professional basketball and this could influence new prevention strategies. Perhaps the first of these strategies should be to rethink the organisation of competitions, possibly by reducing the number of games, which according to Dr Rodas "could be the first preventive strategy, along with promoting more physiotherapy for recovery and reviewing whether warm-ups require specific and more focused muscle exercises".
A new explanatory model on injuries could require adopting new measures; concerns regarding injuries increases in leagues such as the NBA, where some of the star players may not play in key games and it is suggested that these stars should be supervised by their own doctors. A professional sport not only evolves thanks to the contributions of great players or the application of new tactics on the court. It occurs thanks to the collaboration between players, staff and sports science and sports medicine researchers contributing to new knowledge that helps to continue questioning and understanding real problems in medicine. We hope that during the coming years we can continue to see this close communication between professional staff and science, so that the results of studies such as this one, not only remain in scientific listings but also lead to a visible step forward in the evolution of basketball.
The Barça Innovation Hub team
DO YOU WANT TO KNOW MORE?
KEEP UP TO DATE WITH OUR NEWS
Do you have any questions about Barça Universitas?
Startup
Research Center
Corporate
PLEASE COMPLETE THE FIELDS:
PLEASE COMPLETE THE FIELDS:
PLEASE COMPLETE THE FIELDS:
The Form has been sent successfully.
PLEASE COMPLETE THE FIELDS:
PLEASE COMPLETE THE FIELDS:
PLEASE COMPLETE THE FIELDS:
The Form has been sent successfully.
PLEASE COMPLETE THE FIELDS:
PLEASE COMPLETE THE FIELDS:
PLEASE COMPLETE THE FIELDS:
The Form has been sent successfully.