Osteoporosis is a highly common disease among a certain age, which presents low levels of bone mineral density (BMD) and bone mineral content (BMC) with an increased risk of bone fracture. This disease mainly affects post-menopausal women, but can also affect people among other ages, including children, and different conditions. In fact, it is estimated that the number of people with osteoporosis is going to increase to almost 34 million in 2025, which implies an increase of 23% in relation to 2010.
Physical exercise is suggested as a beneficial strategy to improve bone health, but the scientific evidence about it is still uncertain. For example, a meta-analysis (Nikander et al., 2010) which included 10 studies showed that, while exercise increases the BMD in children in pre-pubertal stages, in general, it does not induce the same effects in later stages (that is to say, teenager, adult or elderly people). This difference or controversy could be due to the practiced exercise since probably not all kinds of exercise have the same effects. Thus, to confirm this hypothesis, the responsible for the Sports Medicine Unit of the CAR and the medical staff of FC Barcelona, have recently evaluated data from high-performance sportswomen who played different sports in both high-level Centers, in comparison with a group of sedentary women which was used as a control group (Bellver et al., 2019).
The results of the study showed that those sportswomen who played water sports like swimming, synchronized swimming or water polo, as well as those who played non-water sports like football, volleyball and hockey, presented a higher BMD and BMC in comparison to the control group. It is interesting to observe that those who practiced non-water sports had a higher BMD and BMC than those who practiced water sports. When analyzing the results by sports, the highest levels of BMD and BMC were found in sports with high impacts like volleyball and football, while the lowest values were found in water polo, swimming and synchronized swimming, followed by the control group (data shown in Figure 1). The levels in swimming and synchronized swimming were especially low, probably because the water polo athletes trained fewer hours in the water (12-15 hours a week, compared to 36 hours of synchronized swimming), and more hours out of it (10 hours a week, compared to 8 of the swimmers or 3 for synchronized swimming).
Other studies have also observed different results on the BMD, in relation to the sport practiced. For example, a recent study (Andersen et al., 2018) noticed that bikers presented a lower total and specific BMD at the low back and in the femoral neck compared to a group of runners in spite of the fact of performing a higher volume of training. Similarly, another study (Duncan et al., 2002) which included bikers, swimmers, runners, triathletes and a control group that did no exercise, noticed that runners presented a higher BMD compared to those that practiced sports in which there is no impact, that is to say, swimmers and bikers. In fact, only runners and not any other group regardless of the sport practiced presented a higher BMD than control groups.
In conclusion, these results show that exercise, even performed at the highest levels has no negative effects on bone health and in fact, it can improve bone health in comparison to sedentary population, and benefits will depend on the sport practiced. Mechanical stimuli activate a series of "osteogenic" bone-forming signals which ease bones to become stronger. These stimuli are almost non-existent when you do not work against the force of gravity like inside water, or biking. Hence, it is advisable to include activities that activate these stimuli (e.g., running exercises, jumps, or power training) to stimulate the BMD.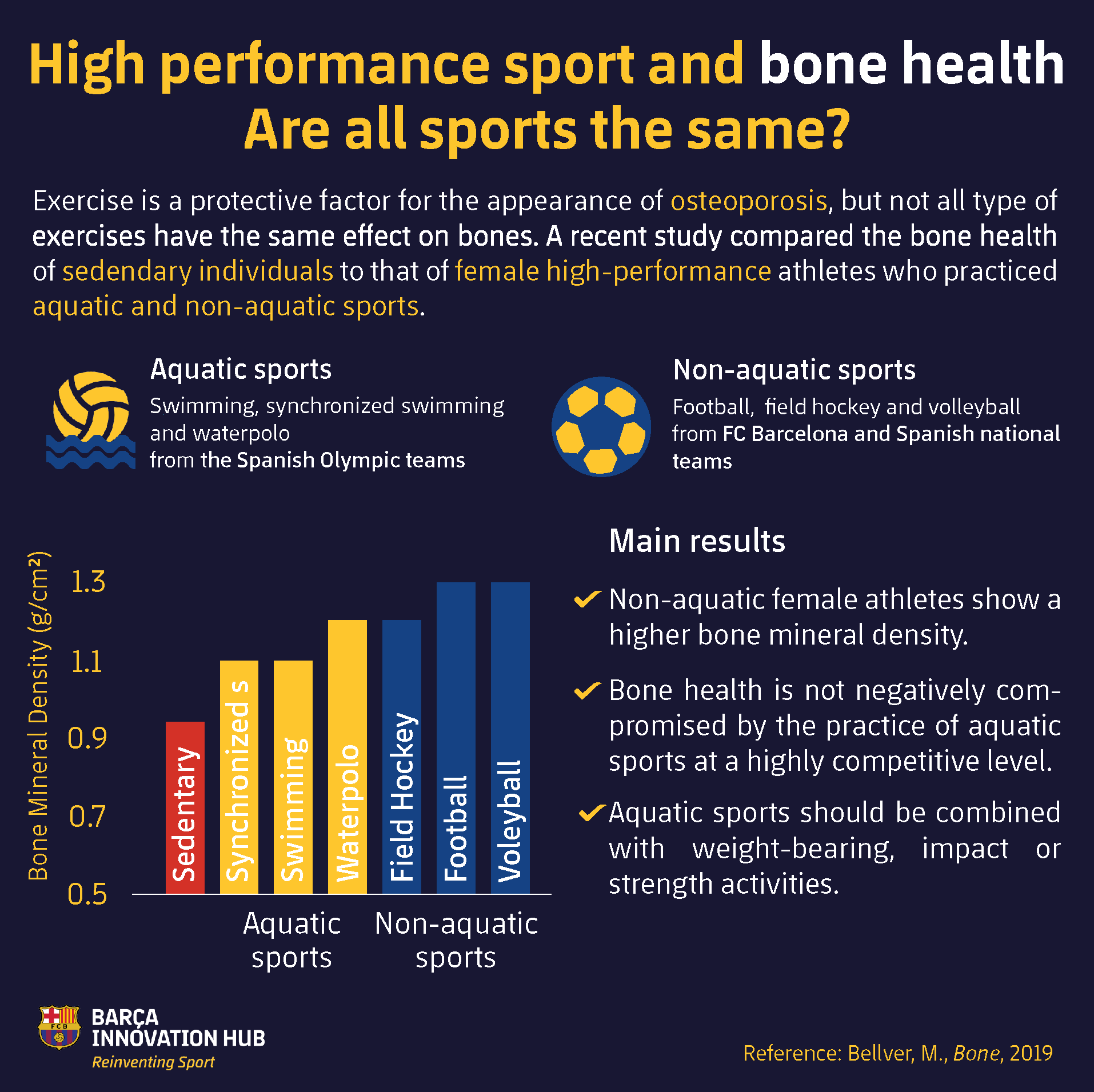 The Barça Innovation Hub team
REFERENCES
Andersen, O. K., Clarsen, B., Garthe, I., Mørland, M., and Stensrud, T. (2018). Bone health in elite Norwegian endurance cyclists and runners: A cross-sectional study. BMJ Open Sport Exerc. Med.4, 1–7. doi:10.1136/bmjsem-2018-000449.
Bellver, M., Del Rio, L., Jovell, E., Drobnic, F., Trilla, A. (2019) Bone mineral density and bone mineral content among female elite athletes. Bone, Oct;127:393-400.
Duncan, C. S., Blimkie, C. J. R., Howman-Giles, R., Briody, J. N., COWELL, C. T., and BURKE, S. T. (2002). Bone mineral density in adolescent female athletes: relationship to exercise type and muscle strength.  Sci. Sports Exerc.34, 286–294. doi:10.1097/00005768-200202000-00017.
Nikander, R., Sievänen, H., Uusi-Rasi, K., Heinonen, A., Kannus, P., and Daly, R. M. (2010). Targeted exercise against osteoporosis: A systematic review and meta-analysis for optimising bone strength throughout life. BMC Med.8, 47. doi:10.1186/1741-7015-8-47.
DO YOU WANT TO KNOW MORE?
KEEP UP TO DATE WITH OUR NEWS
Do you have any questions about Barça Universitas?
Startup
Research Center
Corporate
PLEASE COMPLETE THE FIELDS:
PLEASE COMPLETE THE FIELDS:
PLEASE COMPLETE THE FIELDS:
The Form has been sent successfully.
PLEASE COMPLETE THE FIELDS:
PLEASE COMPLETE THE FIELDS:
PLEASE COMPLETE THE FIELDS:
The Form has been sent successfully.
PLEASE COMPLETE THE FIELDS:
PLEASE COMPLETE THE FIELDS:
PLEASE COMPLETE THE FIELDS:
The Form has been sent successfully.