An alarm clock sounds. Have breakfast. Go to school. Escape in the middle of the morning to undertake the first training session. Go back to school. Eat. Finish your day at the school. Train again. Go home. Do your homework. Allow yourself (if you can) a brief mental break and go to bed. Day after day. Week after week. Combining education and the practice of a high-performance sport is not easy for people who do not have enough hours during the day. Several young athletes state that their social life is noticeably reduced, if it hasn't already completely disappeared. While physical and intellectual exhaustion make boys and girls wonder if all this effort is worth it, what is the result for many of them? Early school leaving, which in the future will result in no planning for after retiring from sports.
However, new study methodologies of the 21st century and an unexpected change due to the pandemic is setting the stage for change. Technology and academic-sports policies are starting to align to elite athletes needs who want to be ready for what is to come after competition. Universities and schools make their schedules more flexible, offer academic tutors, change exam dates, and reinforce the implementation of online platforms.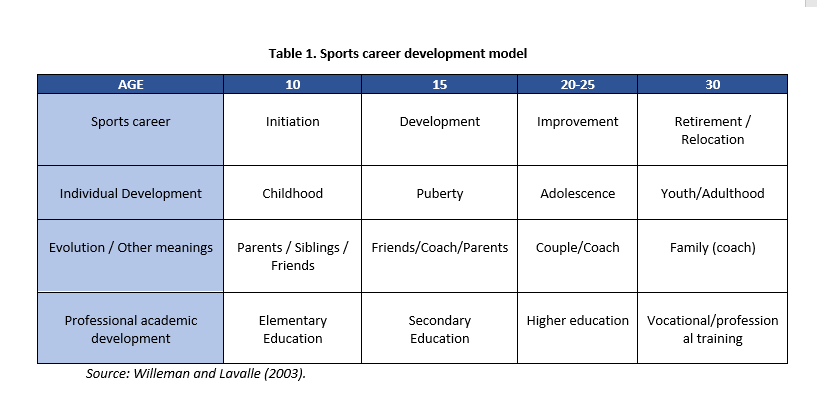 The future of education
The World Innovation Summit for Education in 2015 highlighted that educational programmes are to be reinvented in the next years. Special attention was given to the emergence of the internet and new technologies as an agent of change, almost a revolution, in our way of learning and teaching. Today, globalisation and (in a significant way) the pandemic, have catapulted this transformation to occur now, having an impact on what many experts have been demanding for a long time: to focus children's education individually, and highlighting their abilities through personalised learning processes. This seems to fit elite young athletes through tailor-made programmes, having access to other services such as psychological support for what they endure daily and monitoring their time management for the many tasks they are undertaking.
The same World Summit at the end of 2019, reinforced its predictions made four years before. At the time the coronavirus was not known, and at the conference it was stressed that by 2030 lectures would disappear and teachers would become the student's guide through their own learning process. The academic curriculum would be personalised according to the needs of each student by valuing their skills over the academic content. Finally, the Internet would become the main source of knowledge.
With this perspective in mind, schedules will be completely flexible as the concept of a physical school will disappear as well as classrooms and unmovable timetables, to adapt to what is best for each person. This is a trend that has been observed in elite athletes' dual training, and as it becomes more common it will enhance the resources available to them and their performance. There will be more online courses, but there will also be summer and even weekend schools. Apart from the basic training, there will be other course options on free online training platforms (MOOC), such as edX, Coursera, or any other platform. Allowing students build an academic career adapted to their needs at any given time thanks to the ongoing training, which will ultimately allow them to always be updated to the labour market demands. The digital transformation of education cannot be reversed, and it is a great opportunity for elite athletes.
Your own sports experience can add value
What can an elite athlete bring to his or her future professional career? What makes them different from the rest of the candidates? This is where remembering the player's life experience plays an important role. In the same way as having completed a master's degree abroad or as having worked in a multicultural environment might benefit any professional when applying for a job, being part of a team (such as football, basketball, swimming, or any other sport) provides key skills and potential connatural opportunities for the athlete's new organisation.
We can take as an example Gerard Pique, a person with a multidisciplinary vocation who has also stand out in the business world. Combining his role as a key defence player in the team, he's taken part in online management courses as well as having enrolled in a course aimed at music, art, and sports business executives. Another example is Juan Mata, who took part in some semesters at the university to study journalism and communication while playing at Valencia. Once he signed to Chelsea, he enrolled into two different online degrees. These are two examples, which show how athletes can take advantage of what sports have offered them to prepare a professional career to stand out for their unique experiences.
A classic retirement among athletes has always been related to their field of action, from coaching or being part of a club's structure to sports journalism. However, a good dual career planning can allow them to exploit and explore other fields thanks to the skills acquired as an athlete: living in other environments (having played in foreign teams or taking part in international competitions), having been part of a team with many international athletes, working under stress and being result driven to accomplish goals. These skills can be very useful for the business world, but they can also contribute to the organisation thanks to the number of high-profile contacts they may have established throughout their sports life. Having combined studies with elite sports should not be seen as a weakness, on the contrary, it should be seen as a strength to enhance their professional career after sports.
Jose Valenzuela
Bibliography
Wylleman, P. and Lavallee, D. (2003). A developmental perspective on transitions faced by athletes. En M. Weiss (ed), Developmental Sport Psychology. Morgantwon, WV: Fitness InformationTechonology.
World Innovation Summit for Education: https://www.wise-qatar.org/
DO YOU WANT TO KNOW MORE?
KEEP UP TO DATE WITH OUR NEWS
Do you have any questions about Barça Universitas?
Startup
Research Center
Corporate
PLEASE COMPLETE THE FIELDS:
PLEASE COMPLETE THE FIELDS:
PLEASE COMPLETE THE FIELDS:
The Form has been sent successfully.
PLEASE COMPLETE THE FIELDS:
PLEASE COMPLETE THE FIELDS:
PLEASE COMPLETE THE FIELDS:
The Form has been sent successfully.
PLEASE COMPLETE THE FIELDS:
PLEASE COMPLETE THE FIELDS:
PLEASE COMPLETE THE FIELDS:
The Form has been sent successfully.