10 May, 2019
CHANGING THE LIVES OF REFUGEE CHILDREN THROUGH SPORTS
The Barça Foundation and the refugee crisis
It has been estimated that there are currently more than 65 million displaced people fleeing from wars, conflict and persecution. Half of them are minors, the most vulnerable population.
Since June 2017, together with the support of the Stavros Niarchos Foundation, the Barça Foundation has been implementing a sports education program based on an original methodology it developed: FutbolNet. The program aims to improve the lives of refugee children and youth through sports.
FutbolNet consists of a curriculum that uses sports as a tool for dialogue, respect, tolerance and understanding among children and young people in vulnerable environments. The FutbolNet program is based on handing the methodology over to organisations and partners in the field, who in turn implement it with children and young people.
Measuring the impact
Sports can have a significant effect on children and young people. Children explore, discover and create as they play, developing social skills, learning to express their emotions and gaining confidence in their own abilities at the same time.
In order to validate this hypothesis, the Barça Foundation has written an assessment report on its refugee program, together with Roots for Sustainability and B·Link.
Are sports (with the help of this methodology designed by the FC Barcelona Foundation) really changing the lives of refugee children and young people? Do the effects of sports and play contribute to improving their quality of life? What positive effects do they create in children?
In order to answer these questions and to find evidence of the program's impact, both quantitative and qualitative research has been carried out using a sample of more than 800 children in 19 different locations in Lebanon, Greece and Italy:
refugee camps (Skaramagas, Lesbos and Moria in Greece)
school environments in urban areas (Athens)
municipal environments (6 municipalities in Lebanon's Bekaa region)
welfare centres for unaccompanied minors (Sicily and Calabria).
So far, 191 educators have been trained and more than 3,266 children have taken part.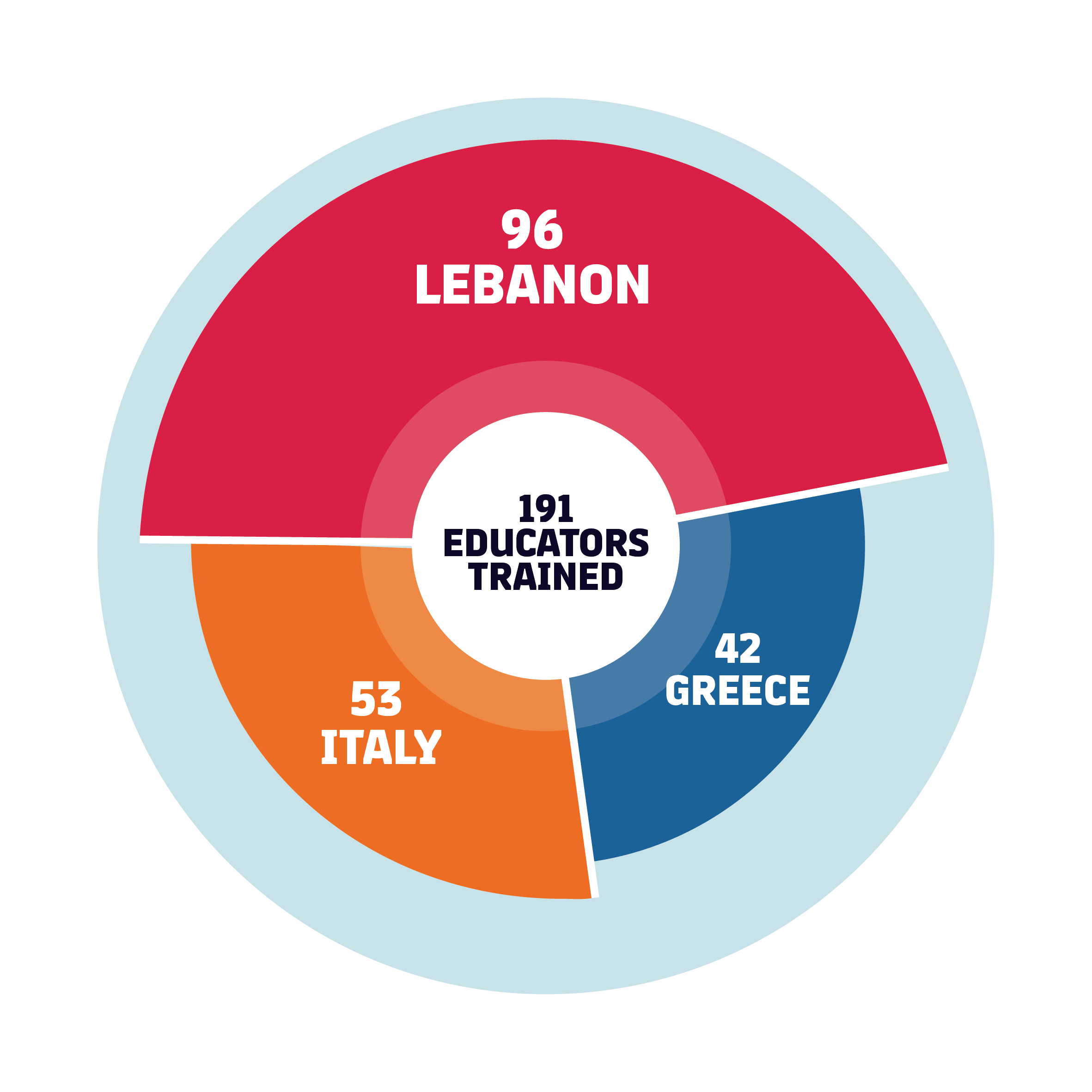 Program results
A reduction in conflict situations. This can be seen after one to two months of exposure to the program. Cultural stereotypes are neutralised and intercultural dialogue is encouraged. Youngsters and children's attitude become more respectful and tolerant.
An increase in emotional well-being. Children feel calmer, less afraid, less angry and have higher self-esteem. Their initial stages of depression, frustration and aggressiveness are reversed. Feelings of fear are reduced in 45.3% of children.
Coexistence in a safer environment. The FutbolNet sessions provide a safe space free from accidents or fights.
Increased socialisation and the sense of belonging to a group. They have the opportunity to make new friends and connect in a different way.
Empowering girls. The program allows girls to develop more confidence in themselves and to improve their abilities to communicate and establish relationships.
Mamadou's story in Moria, Greece 
With only 15 years, Mamadou left his small village in eastern Mali with the clothes he was wearing and a small amount of money that he had managed to save. He left his parents' house without saying a word to anyone and without saying goodbye, in the hopes of finding a better future in Europe. The long months he spent on the road were the hardest months of his life. Now Mamadou lives in a section for unaccompanied minors in Moria, the largest refugee camp on the Greek island of Lesbos, where he participates in the FutbolNet methodology program. Today, Mamadou wants to play with others, not just boys or those who speak his own language, and he no longer fights with his peers when they play football. "FutbolNet has given me the opportunity to keep playing. But above all, it has helped me to look at myself differently and to communicate in a different way".
Alejandra Bara
Ramon Crespo
Jordi Escribà
Raimon Puigjaner
Mariona Miret
DO YOU WANT TO KNOW MORE?
KEEP UP TO DATE WITH OUR NEWS
Do you have any questions about Barça Universitas?
Startup
Research Center
Corporate
PLEASE COMPLETE THE FIELDS:
PLEASE COMPLETE THE FIELDS:
PLEASE COMPLETE THE FIELDS:
The Form has been sent successfully.
PLEASE COMPLETE THE FIELDS:
PLEASE COMPLETE THE FIELDS:
PLEASE COMPLETE THE FIELDS:
The Form has been sent successfully.
PLEASE COMPLETE THE FIELDS:
PLEASE COMPLETE THE FIELDS:
PLEASE COMPLETE THE FIELDS:
The Form has been sent successfully.