Statistics are currently a frequently used concept in the world of sports which has sparked interest in different professionals such as managers, analysts, video analysts, data journalists, physicians, physical trainers, physiotherapists, psychologists, nutritionists, coaches and even in the players themselves. Despite this increased interest, we should keep in mind that, statistics is primarily a young science based on data, and its objective is to measure, control and communicate data.
Statisticians are not only known as those who describe variability or fit statistical models to help in decision-making but they are also involved in study designs and in assuring the accurate use of "c-speak", a language shared by statisticians and professionals or executives in the field, which is sports in this case. Today, sports statistics is often referred to with the term Sports Analytics.
Sports Analytics has grown exponentially thanks to IT sciences and it also encompasses other subareas (e.g. sports sciences, behavior sciences, medicine or data visualization) in addition to statistics with a focus that is more tactical and sports performance related (1).
We are experiencing a new culture to deal with data that probably seeks to make changes to the organization. In sports analysis, just like in other fields, this will not be an immediate change. For now they have started to create and renew sports analysis departments within sports clubs to initially allow for different professionals from a coaching staff team (analysts, physical trainers, physiotherapists, coaches) to work closer with data scientists. In part, thanks to the movie Moneyball, this has produced constant technological innovations that are now available, popular sports analysis conferences like the Sloan, or recent work from sports scientists such as, Tim Gabbett.
Biostatistics is one of the most established specializations in statistics. It combines advanced statistics skills  applied to health sciences. The growth of this specialization has taken place, more than anything in the academic world with the creation of prestigious departments and biostatistics and epidemiology associations that are already established all around the world. But, are there also specializations in sports statistics? Of course. Starting with sabermetricians there are also moneyball or scouting professionals, sports analysts, and also the role of sports biostatistician that combines advanced statistics skills, epidemiology, public health, sports medicine and sports science, as can be seen in Figure 1. This new profession was proposed by the researchers Caroline Finch and Martí Casals in their last work published in Injury Prevention and the British Journal of Sports Medicine (BJSM) which detail the new opportunities for this role and also highlight that biostatistics can help with injury prevention and looking after an athletes' health (2, 3).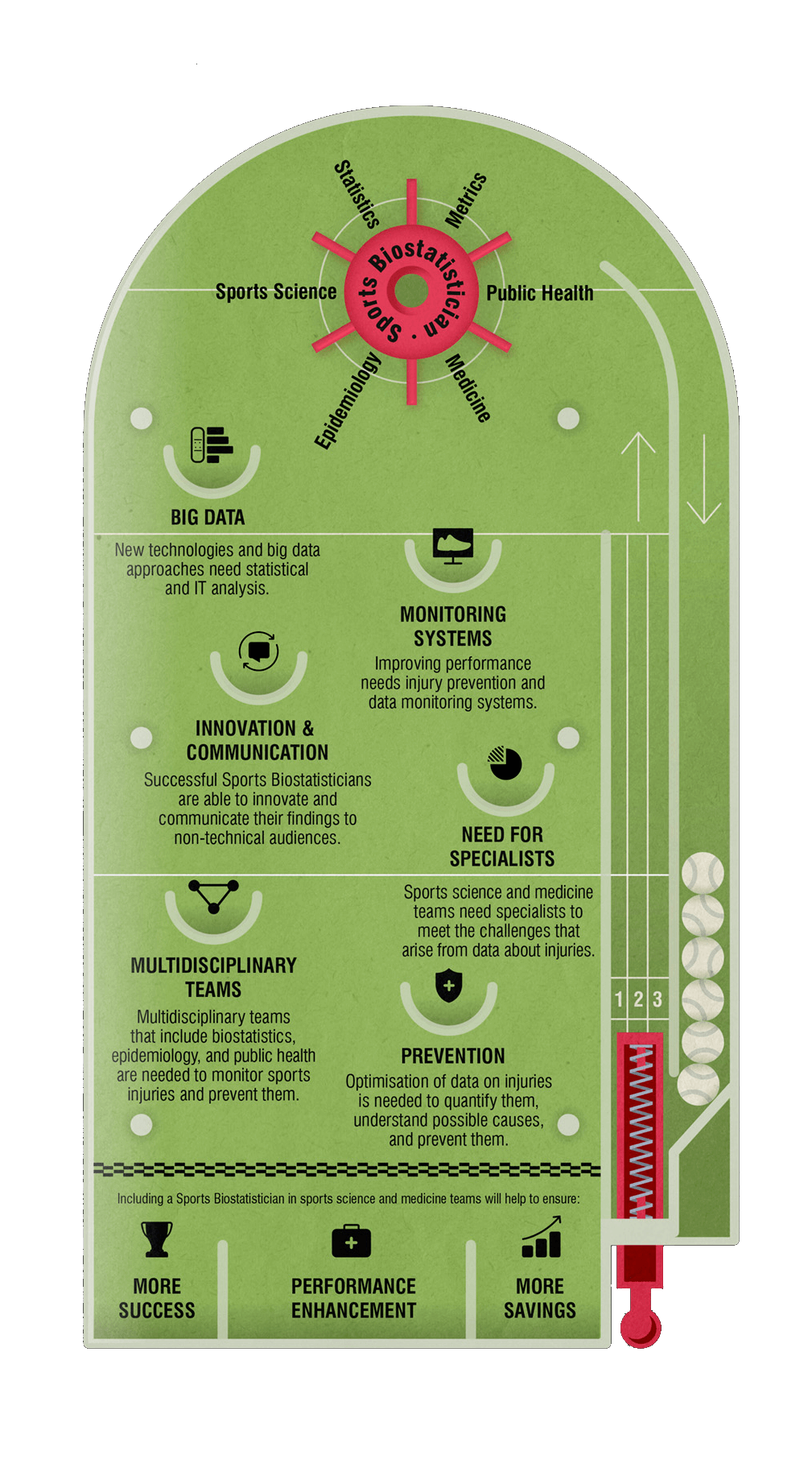 Some of the most important functions of the sports biostatistician include:
Challenging and using sports data where sports biostatistician attempt to report information correctly to a club's coaching staff to facilitate communication amongst them (4), to ensure data quality with concepts of transparency, reproducibility and replicability (5); not obsessing over the "Big Data" phenomenon and always extracting the most useful information and, above all, to begin to ask good questions (6) making use of scientific evidence.
Bringing sports professionals closer to data scientists (6) where the cross-sectional role such as the sports biostatistician routinely speaks with sports professionals to help think about and quantitatively resolve questions and problems that come up from day to day, while keeping the guides to transparency in mind for scientific studies (e.g. CONSORT, PRISMA, STROBE, TRIPOD, Injury Surveillance Guidelines…) before affirming or putting interventions in place.
Having the skills to promote how biostatistics can help in sports sciences. Recently, with regards to this, some editorials of BJSM, led by the researcher Rasmus Nielsen have pushed for more educational applied studies that cover the methodological concepts and what a clinician, analyst or trainer needs on a day-to-day basis. This is the first important step to bring biostatistics and applied epidemiology closer to sports sciences which then leads us to what the prestigious researcher Doug Altman revealed with biostatistics and medicine and that allowed him to make these sciences grow together (7). Another example would be that of Dennis Lock, the current director of analytics for the professional American Football team, the Miami Dolphins, where in a photo during his presentation at the Joint Statistical Meeting (JSM) held in 2017 he showed the relationship between data and the training cycle (Figure 2).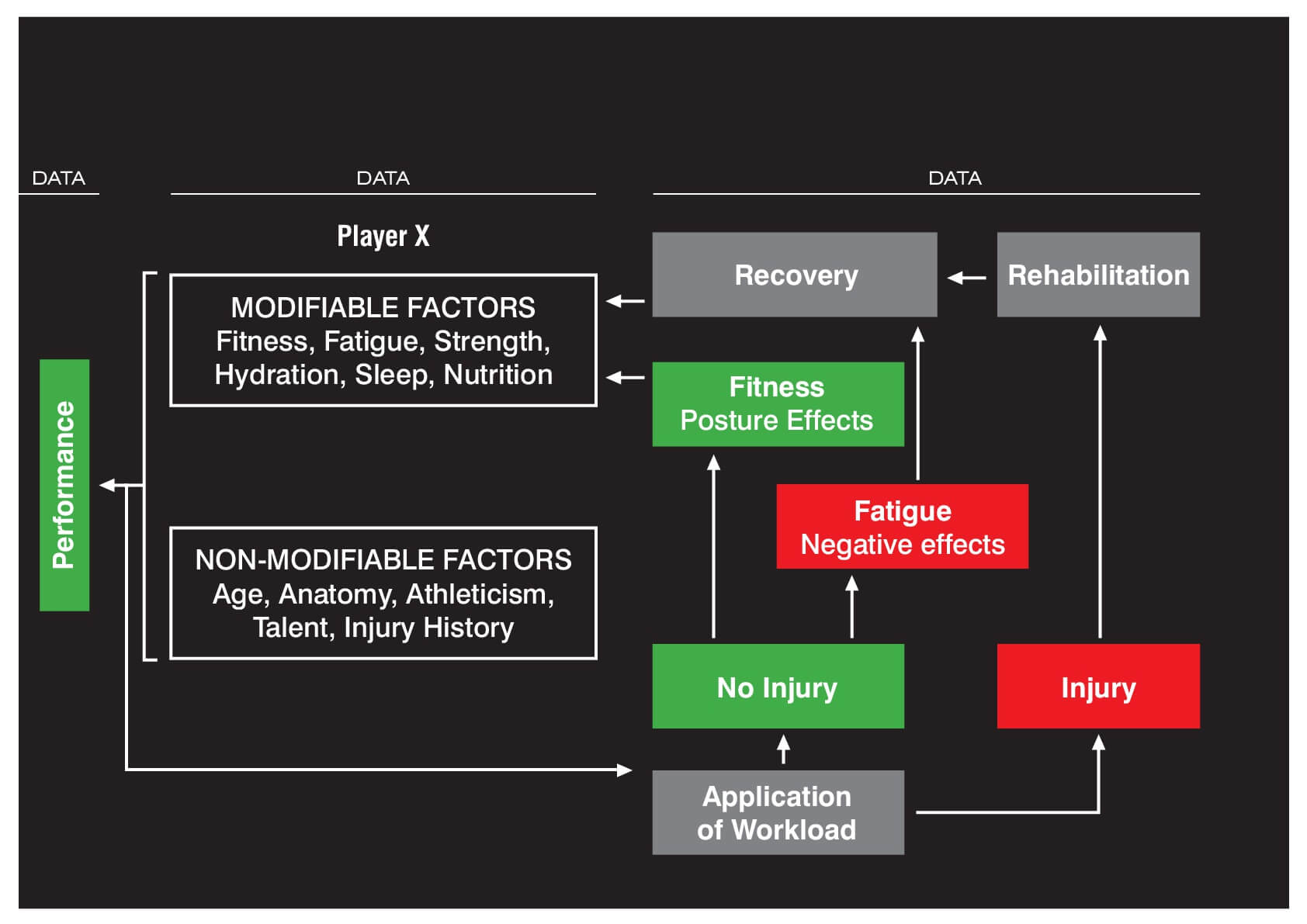 This is a clear example of how statistics and biostatistics can be included in the different sports professionals, and how synergies can be created among sports sciences and medicine communities with statistics.
Martí Casals Toquero, PhD in Statistics. Professor and researcher in the Sport Performance Analysis Research Group (SPARG) of the Sport and Physical Activity Studies Centre (CEEAF), University of Vic – Central University of Catalonia (UVic-UCC). Team member of Barça Innovation Hub – Universitas.
Twitter | Researchgate | Linkedin
Bibliographic References
Stein, M., Janetzko, H., Seebacher, D., Jäger, A., Nagel, M., Hölsch, J., … & Grossniklaus, M. (2017). How to make sense of team sport data: From acquisition to data modeling and research aspects. Data, 2(1), 2.
Casals, M., & Finch, C. F. (2016). Sports Biostatistician: a critical member of all sports science and medicine teams for injury prevention. Injury prevention, injuryprev-2016.
Casals, M., Bekker, S., & Finch, C. F. (2017). Infographic: Sports Biostatisticians as a critical member of all sports science and medical teams for injury prevention.
Barboza, S. D., Bolling, C. S., Nauta, J., Van Mechelen, W., & Verhagen, E. (2017). Acceptability and perceptions of end-users towards an online sports-health surveillance system. BMJ open sport & exercise medicine, 3(1), e000275.
Goodman, S. N., Fanelli, D., & Ioannidis, J. P. (2016). What does research reproducibility mean? Science translational medicine, 8(341), 341ps12-341ps12.
Nassis, G. P. (2017). Leadership in science and medicine: can you see the gap?
Matthews, R., Chalmers, I., & Rothwell, P. (2018). Douglas G Altman: statistician, researcher, and driving force behind global initiatives to improve the reliability of health research.
DO YOU WANT TO KNOW MORE?
KEEP UP TO DATE WITH OUR NEWS
Do you have any questions about Barça Universitas?
Startup
Research Center
Corporate
PLEASE COMPLETE THE FIELDS:
PLEASE COMPLETE THE FIELDS:
PLEASE COMPLETE THE FIELDS:
The Form has been sent successfully.
PLEASE COMPLETE THE FIELDS:
PLEASE COMPLETE THE FIELDS:
PLEASE COMPLETE THE FIELDS:
The Form has been sent successfully.
PLEASE COMPLETE THE FIELDS:
PLEASE COMPLETE THE FIELDS:
PLEASE COMPLETE THE FIELDS:
The Form has been sent successfully.