As part of the Barça Football Coach Summit, coaches Nenad Bjelica (Dynamo Zagreb), Franc Artiga (FC Barcelona Juvenile A), Juan Carlos Unzué (ex Girona FC), Jagoba Arrasate (CA Osasuna), Michel Sánchez (SD Huesca) and Lluis Cortés (FC Barcelona feminine) have shared ideas on how to improve and enhance football players during their careers.
The Croatian coach started by referring to data which helps perceive the player's improvement. He explained that his team's price has increased up to 100M€ during the last years. They've achieved this milestone by applying a 14-step working system that takes into account all aspects of a human group.
Inducing a model to players
Bjelica admitted that during the year, with one match every three days, he cannot "inoculate" his ideas and game automatisms to the team. For this reason, all his ideas and vision are transmitted during the preseason, where there is not one single exercise, not even a race, without a ball. However, for many players, these summer stages have been the hardest in their career.
During the rest of the season, the chance to improve is by taking care of the human aspect. The team's motivation is maintained through rotations including a big number of players for the three competitions they play. This way he achieves a personal connection, which he learnt from Ginés Meléndez in Albacete, having the player "indebted" to him. He concluded by saying that there is not a fast way for a player to be "centred and disciplined" and as Miguel Ángel Lotina once said, "don't do exceptional things, but do the simple ones in a perfect manner".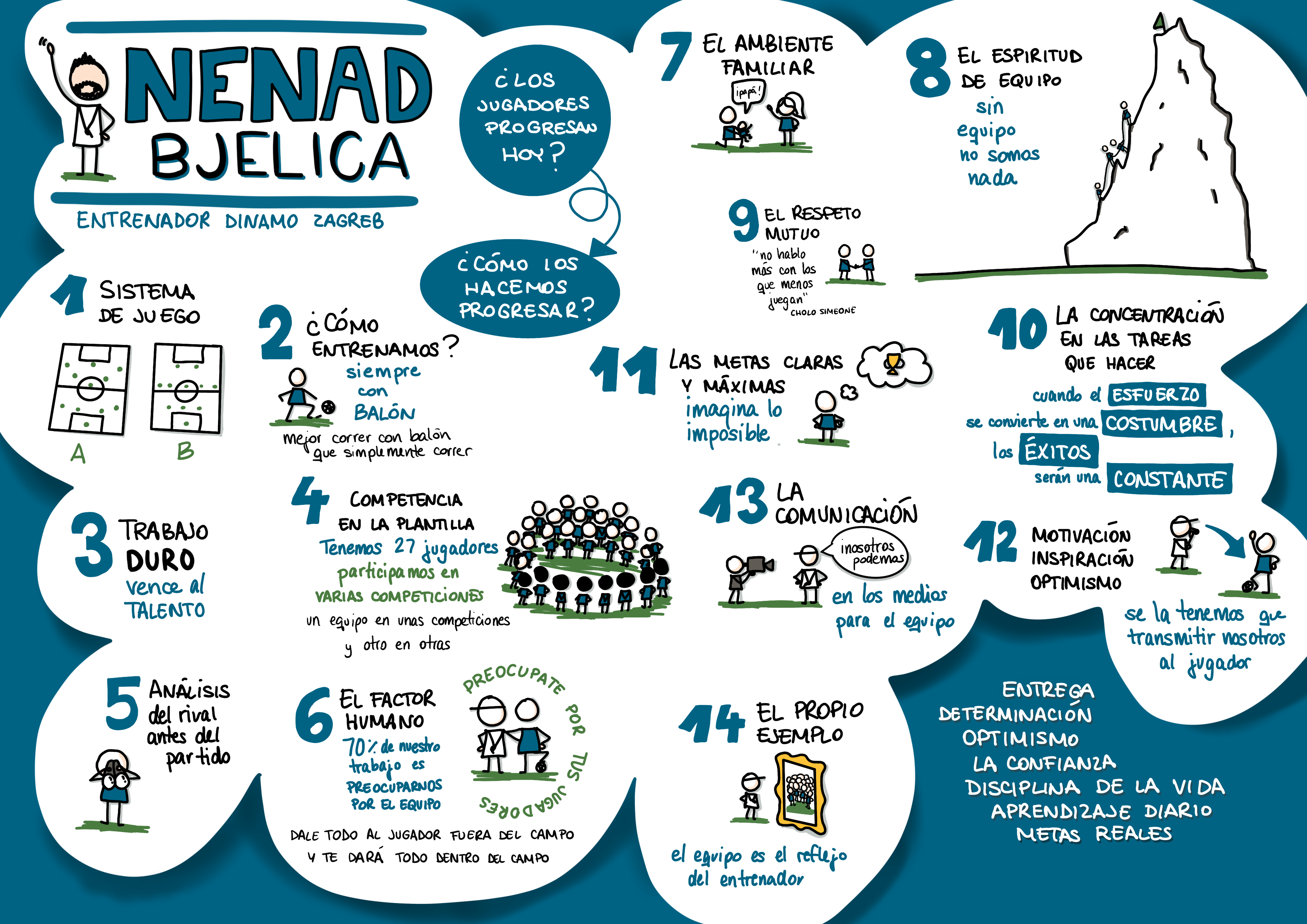 Youth teams
Franc Artiga faced this topic from a youth team point of view, where it is more important for the player to improve his performance than to become a professional player. In fact, he admitted that when he reunites with his players years later, everyone remembers what they learnt from him rather than the trophies they won, which is the main goal for coaches in this sport when training youth players.
He mentioned the importance of the Preferential Simulation Situation training exercises, as being the most important aspect for players to progress at FC Barcelona. Here they learn to predict a loss or a recovery to take a quick stance and as he said, "to learn to live matchday encounters".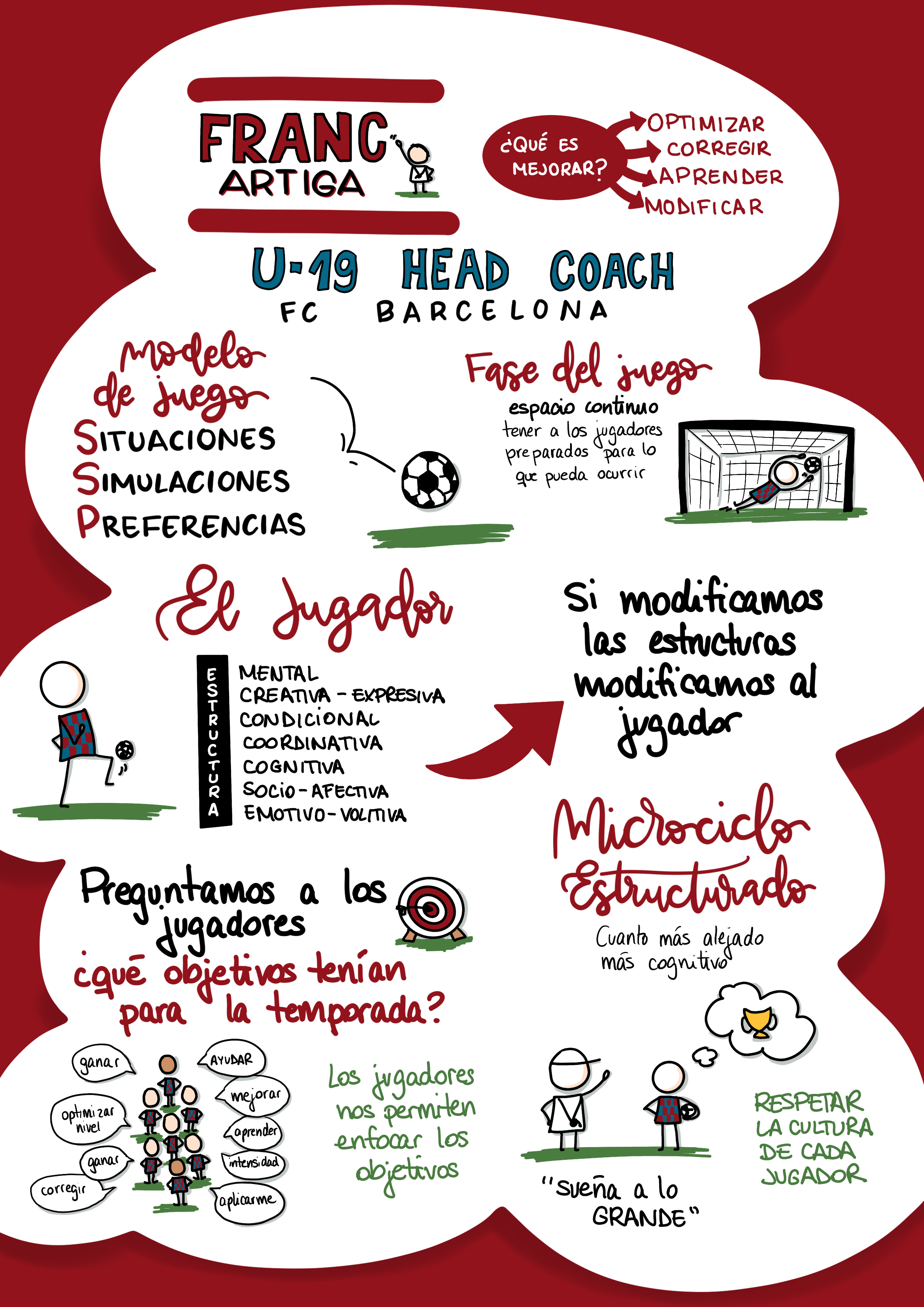 Communication with the team
Juan Carlos Unzué focused on how to transmit the necessary codes and values for players to improve. His experience being the coach of Girona, Celta de Vigo and Numancia, as well as Frank Rijkaard's assistant and second coach to Pep Guardiola and Luis Enrique at FC Barcelona, the most difficult thing for a coach is for him "to be listened"
This is the main function, the coach "facilitates key information to the team, to be more effective and therefore dominate the game". In this role, it is very important to know when to give precise instructions and the player sees that it works, as well as not interfering when there are positive synergies between players, even if it modifies the original idea or the coach's scheme.
He highlighted his impression by witnessing Johan Cruyff's methodology which he lived as a player from 1988 until 1991. The Dutch coach was capable of convincing a player he was useful to the team by just staying still without the ball in a specific position on the pitch. If one can communicate, as Johan was able to, the football player will follow his instructions even if he is one of the best players in the world because he is the first to understand that he will achieve his goals if he improves.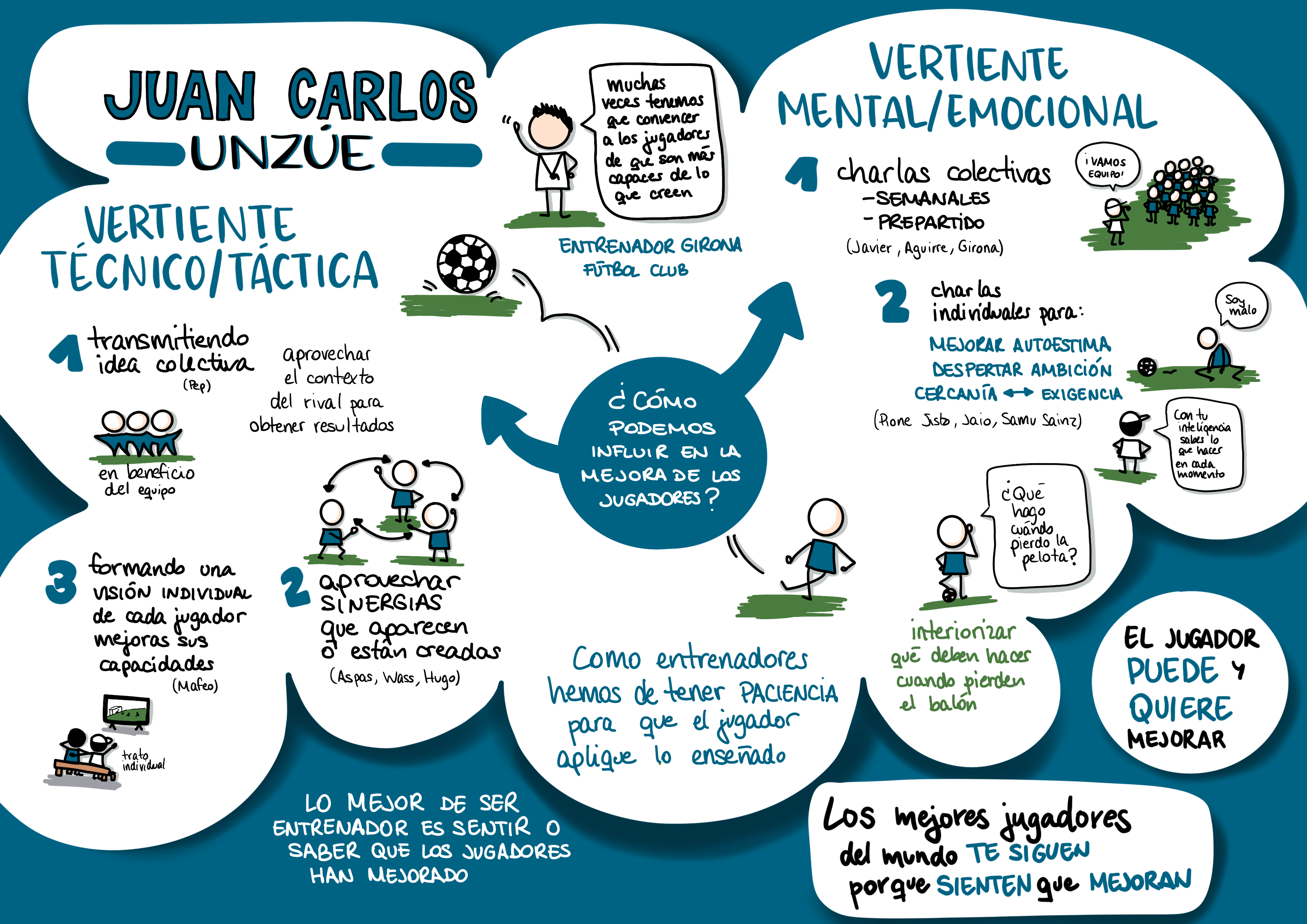 A practical case
Jagoba Arrasate gave an example of a player making progress and improving his performance. The Osasuna coach explained how he manages, giving insights from his experience with the Argentinian forward, Chimy Ávila. For him, first impressions are important. When they first talked by phone for the first time, as well as seeing who he mingles in the team, how he lives, his adaptation to the city and how influenced he is by the people who surround him, which could be family or the manager who sometimes are impatient for the revaluation of his client.
About the game, he said that he couldn't have an opinion of the potential of the player from seeing all the videos and reading the reports, only once he saw him train day by day. At this point, even if the performance is good, he admitted, "we cannot stay passive". In this particular case, he used the player's dream to debut with "La albiceleste" to propose him, new goals. With that objective "he was more receptive" and an extraordinary technical work was done which helped him progress in his decision making during the game. As he explained in this particular case, "for forwards it is difficult to see what is beneficial for the rest of the team". He ended by saying that for this process there is a keyword from the beginning to the end: "empathy".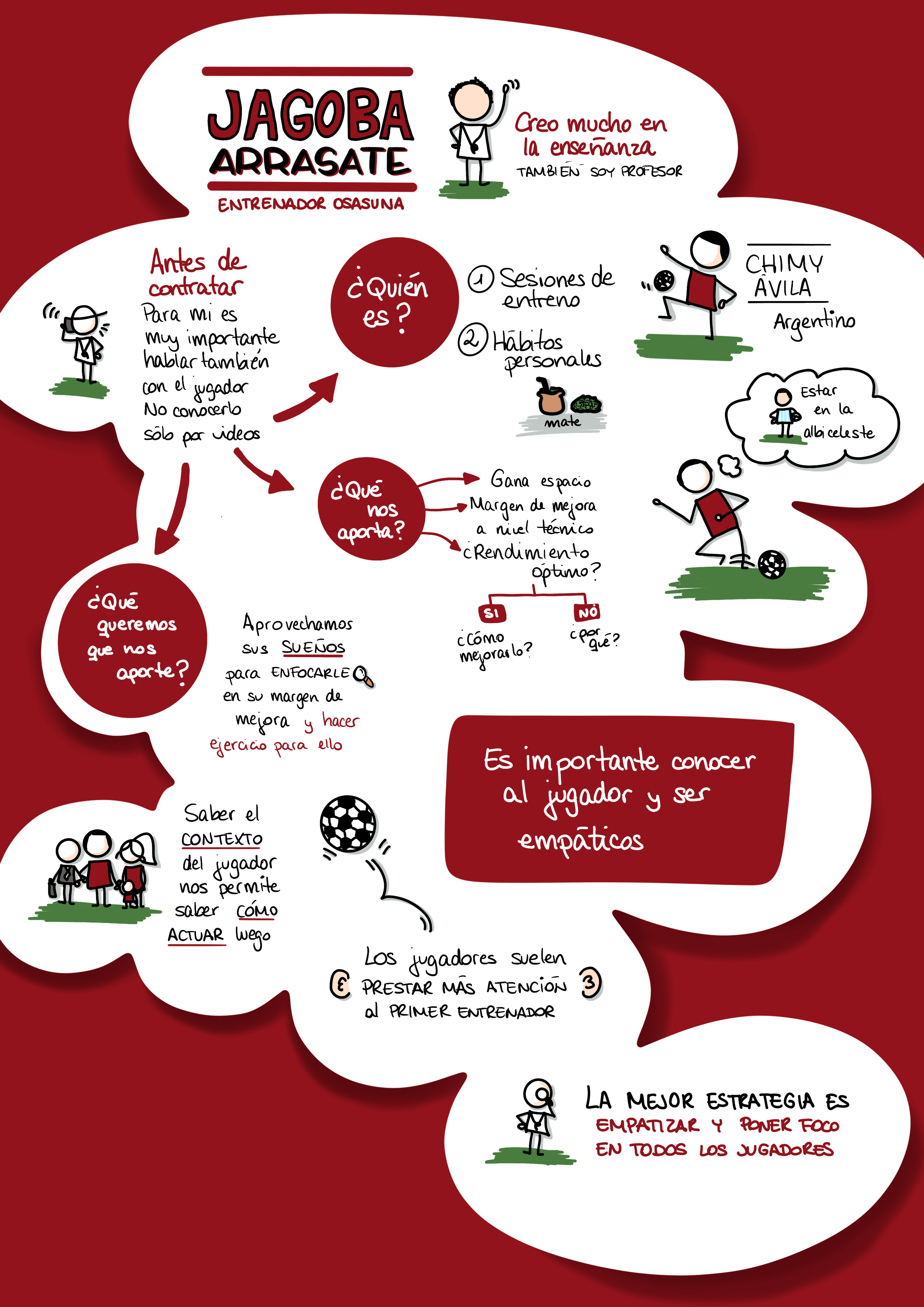 Work ethics
Beyond motivation, Michel Sánchez explained how he works group cohesion. At first, the team is structured in a circle, without hierarchies. This means that all the members of the team are at the same level (from the kit man to coaches and players). Even if there is a risk to end up with overconfidence, Michel believes in one on one relationships, the feedback between coach and player. His fundamental principle for it to work is to never trick a player and make sure that any corrections made, aren't interpreted as a blunt criticism.
He remembered the most basic element of this sport: football is a game. That is why there is no other secret for football players to perform well than making them have fun and learn. In this context, a player has to always try and improve his performance. Constantly modifying his performance in a long period of time, Michel knows that it is not a problem if the player understands that not only he is improving but the team as a whole.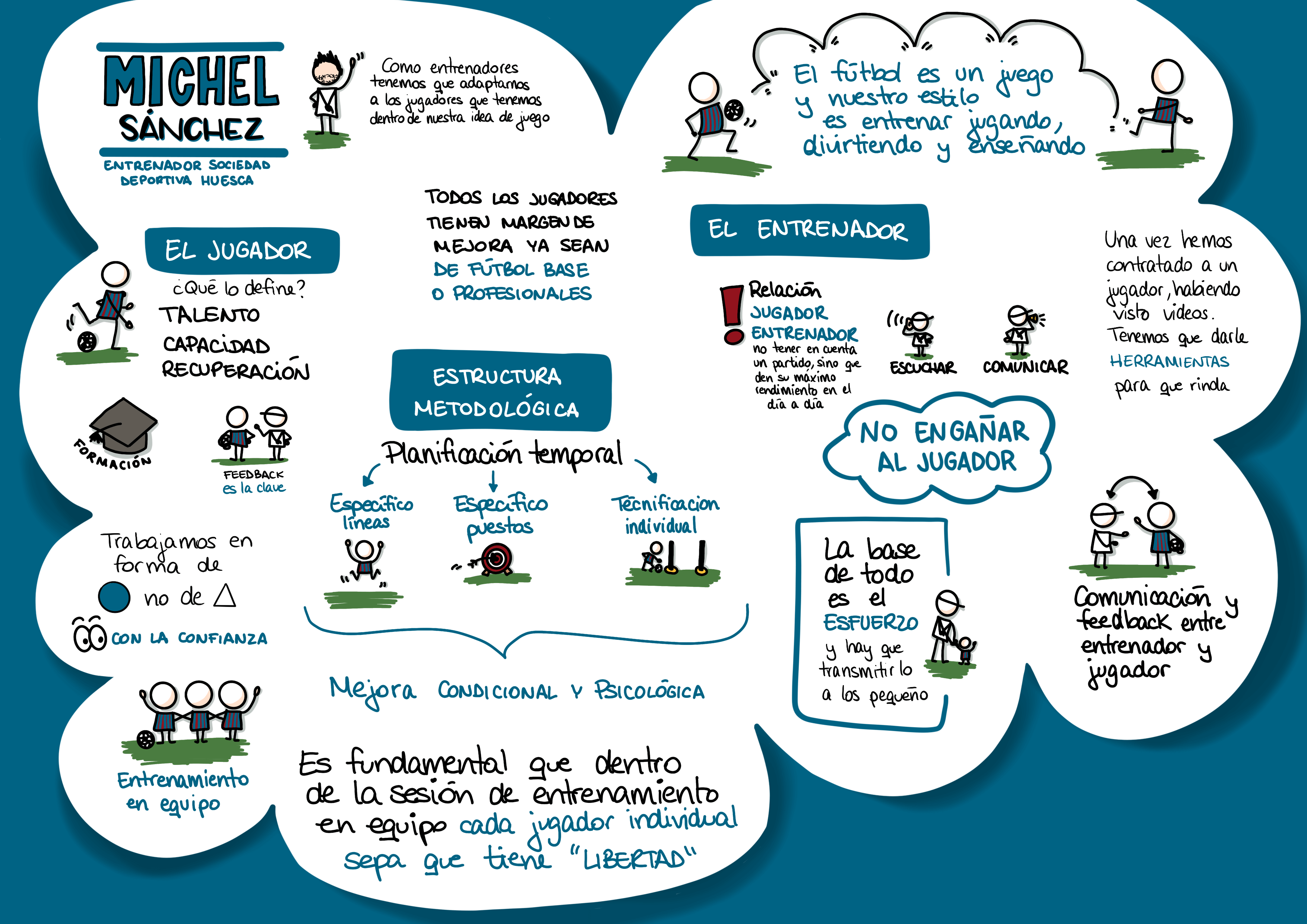 Women's football
Luis Cortés disagreed on what some people think that winning and educating fall in a contradiction. From his experience, there is no other way to win that doesn't involve educating and training. In his situation, however, to achieve this improvement with women, he has to face different challenges which differ from men's football.
First, women begin to play football later than men. Coaches that have trained women, often do so because they haven't found a men's team, in other words, low tier coaches. Besides, when women compete professionally, they find themselves in unequal balanced competitions. In youth leagues, top players have not experienced competitive demands.
He also remembered that women are different psychologically and physically speaking when competing. The pros are that they are more obedient, open to learn and share, and thankful players. In this context, it has been possible to establish a good communication channel by correcting errors which allow all players to express their opinion.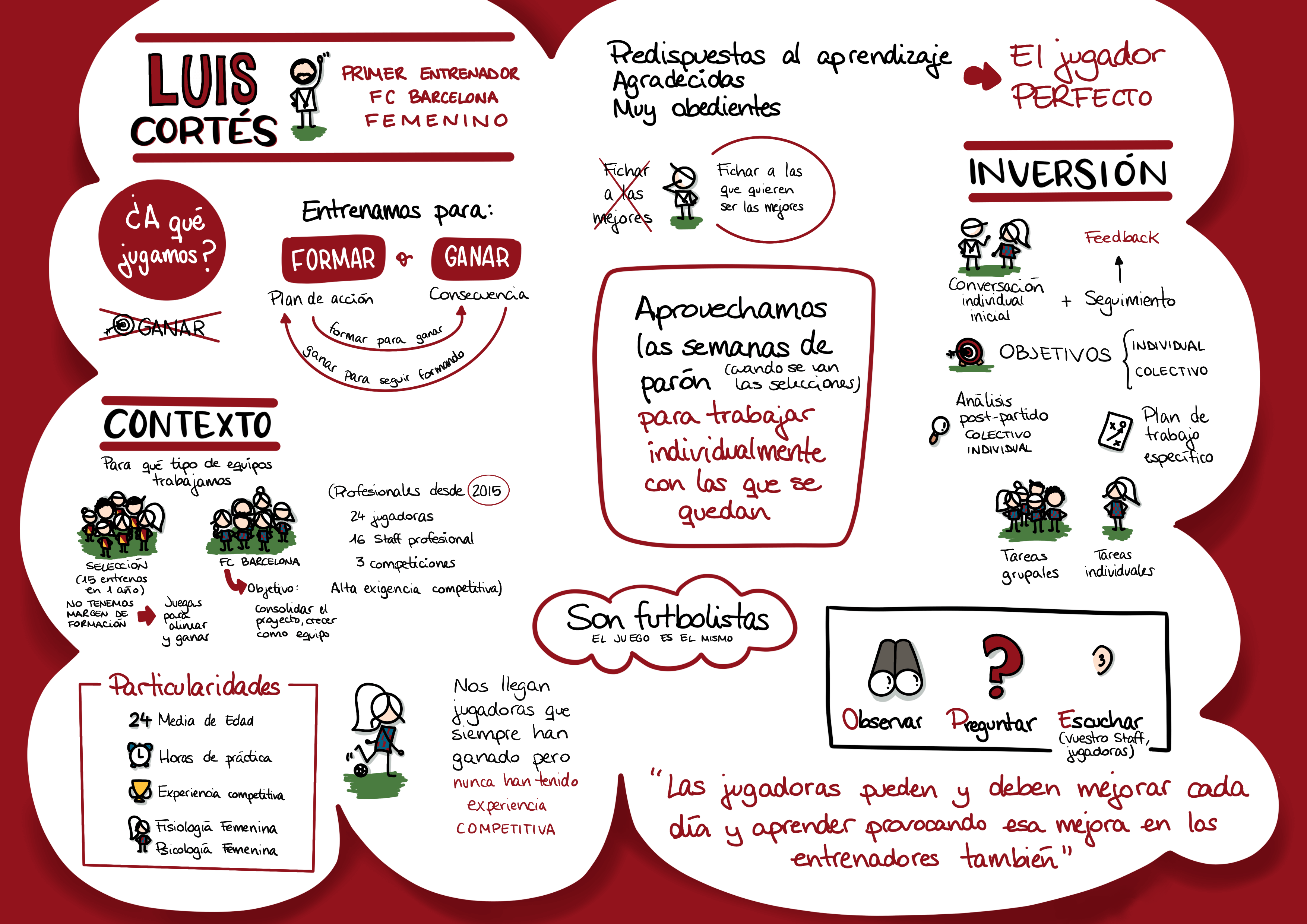 Autonomy, creativity and competition
In the final round table, coaches discussed the different technical aspects that they face in their day by day. The most important one was the group talent management and if the most creative players need a more relaxed approach in different game stages. Bjelica accepted that sometimes it is necessary to "cover our eyes" in front of more talented players so that they can do "special things".
However, Arrasate and Michel disagreed. The first one thinks that creativity "is something arguable" and believes that coaches must value other things rather than just the creative side. Michel understands that a player can truly be creative if the collective group allows him to do so. Unzué remembered that back in time when he was a player, the defence trained under tactical premises and forwards would not receive these sorts of information to not limit them, in order to be "creative".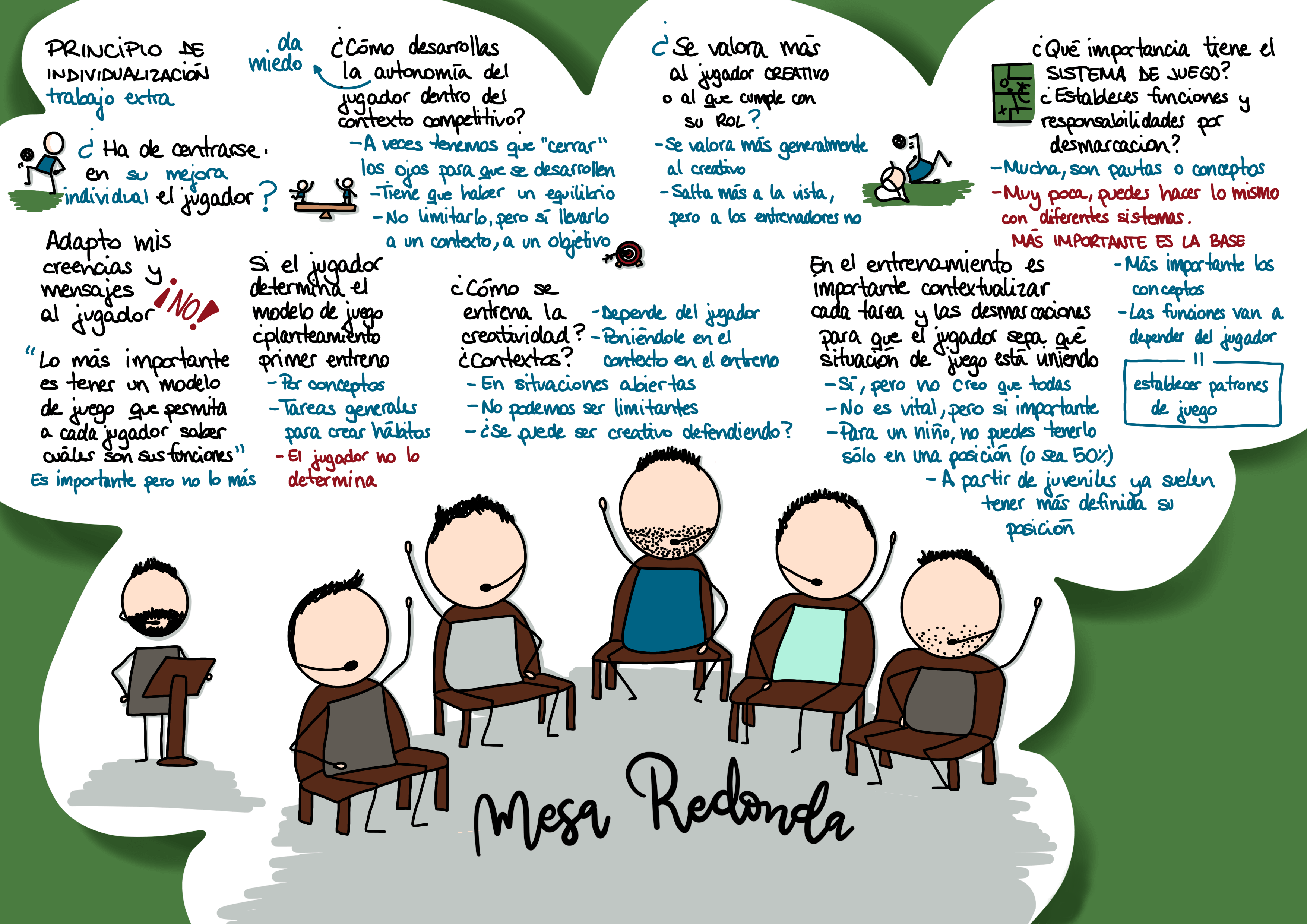 The Barça Innovation Hub team
DO YOU WANT TO KNOW MORE?
KEEP UP TO DATE WITH OUR NEWS
Do you have any questions about Barça Universitas?
Startup
Research Center
Corporate
PLEASE COMPLETE THE FIELDS:
PLEASE COMPLETE THE FIELDS:
PLEASE COMPLETE THE FIELDS:
The Form has been sent successfully.
PLEASE COMPLETE THE FIELDS:
PLEASE COMPLETE THE FIELDS:
PLEASE COMPLETE THE FIELDS:
The Form has been sent successfully.
PLEASE COMPLETE THE FIELDS:
PLEASE COMPLETE THE FIELDS:
PLEASE COMPLETE THE FIELDS:
The Form has been sent successfully.